Dryer Vent Cleaning Services In Carmichael, CA
Owning a home comes with many appealing benefits, but also a lot of maintenance. Owning your own space gives you the freedom to update, decorate how you want, and care for your yard and the exterior of your home. With all of the items that come with owning a home, some aspects can get overlooked in the hustle and bustle of life. Home exterior cleaning seems to be a type of maintenance that gets neglected. Contact us at Sierra Vista Maintenance to help you get caught up with your home or building's exterior cleaning.
Dryer Vent Cleaning
With all the small spaces and openings in your home, dryer vents often get forgotten. They are often out of sight and out of mind and fall to the bottom of your to-do list. You should not neglect cleaning this seemingly insignificant space not only for the efficiency of your dryer but also to limit a fire hazard from your home Dryer vents that are full of lint and dust that if not cleaned out regularly, can be a fire hazard. Cleaning your dryer vents will provide protection for you and your family.
Working with Sierra Vista maintenance gives you a cleaning service that you can trust. Cleaning dryer vents can be hard to reach and clean effectively. Without proper tools, cleaning can get frustrating and inconvenient. Let us make your life easier. Reach out to us for dryer vent cleaning services today. 
When we come to clean your dryer vents you can expect a full inspection of your vents to ensure that we clean everything properly. Our team will then brush and vacuum the dryer lint trap and the dryer vent pipe. Once cleaning is finished we will test the airflow in your dryer to show that the vent pipe is properly cleaned. Once we clean, we don't just leave it at that. We check for any other hazards that may harm you or your family. Our experts know what to look for and keep your home safe. 
Home Exterior Maintenance Services
We at Sierra Vista Maintenance not only provide our clients with excellent dryer vent cleaning services. We aim to provide our clients with the ability to improve the appearance of their homes and feel more comfortable in their home space. Choosing the right maintenance service is vital to the success of different exterior applications including gutters, windows, and solar panels. That is why we offer several other services in addition to dryer vent cleaning.
Our other services include the following: 
Window cleaning

Gutter cleaning

Pressure washing

Solar Panel Cleaning

Roof Cleaning

Dryer Vent Cleaning

Patio and Driveway Cleaning

Real Estate Cleaning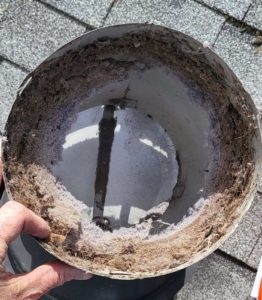 Carmicheal, CA Professional Dryer Vent Cleaning
Carmichael, CA is a suburb in the Greater Sacramento metropolitan area. Carmichael has a great community of small businesses that range from retail, professional, and service-based businesses. 
With many parks and recreational areas, there is something for everyone to enjoy. Many residents own their homes in Carmichael and need regular home maintenance. We can provide you with exterior cleaning while you go about your busy life. We have years of experience working with California homes and residents. 
California may experience great weather for most of the year, but Carmichael, CA still experiences rain, wind, and falling debris. Sierra Vista Maintenance helps to keep your gutters, windows, and other parts of your home looking great. 
Why Choose Sierra Vista Maintenance?
If you are looking for a reliable business that provides quick and efficient service for your home and dryer vents, work with Sierra Vista maintenance. Serving California to the best of our ability is our top priority. We have a keen attention to detail and treat our customers with the utmost respect.
You want your home to look great and give the best first impression. Our team is extremely knowledgeable and experienced. If you are in need of dryer vent cleaning services and are living in Carmichael, CA, feel free to reach out to us at Sierra Vista Maintenance today.