Dryer Vent Cleaning Services in Citrus Heights, CA
Being an adult with a home comes with a lot of perks. It also comes with areas that need upkeep and chores to do. Doing laundry is often one of the household jobs that adults hate the most. Once you finish the laundry, the last thing you want to think about is cleaning your dryer vents. 
Hiring a cleaning company for something like your dryer may seem silly, but not only does proper cleaning ensure that your dryer runs efficiently but eliminates fire hazards. Dryer lint and dust can build up quickly and are extremely flammable. 
Dryer Vent Cleaning
Dryer vent cleaning is not something you should neglect. Dryer vents that are properly cleaned can affect your day-to-day functioning and the safety of your family. 
Working with Sierra Vista maintenance gives you a cleaning service that you can trust. Cleaning dryer vents can be hard to reach and clean effectively. Without proper tools, cleaning can get frustrating and inconvenient. Let us make your life easier. Reach out to us for dryer vent cleaning services today. 
When we come to clean your dryer vents, you can expect a full inspection of your vents to ensure that we clean everything properly. Our team will then brush and vacuum the dryer lint trap and the dryer vent pipe. Once cleaning is finished we will test the airflow in your dryer to show that the vent pipe is properly cleaned. Once we clean, we don't just leave it at that. We check for any other hazards that may harm you or your family. Our experts know what to look for and keep your home safe. 
Home Exterior Maintenance Services
We at Sierra Vista Maintenance not only provide our clients with excellent dryer vent cleaning services. We aim to provide our clients with the ability to improve the appearance of their homes and feel more comfortable in their home space. Choosing the right maintenance service is vital to the success of different exterior applications including gutters, windows, and solar panels. That is why we offer several other services in addition to dryer vent cleaning.
Our other services include the following: 
Window cleaning

Gutter cleaning

Pressure washing

Solar Panel Cleaning

Roof Cleaning

Dryer Vent Cleaning

Patio and Driveway Cleaning

Real Estate Cleaning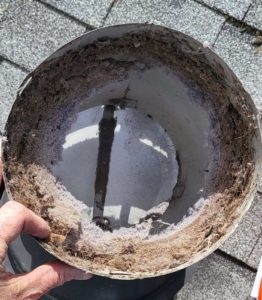 Citrus Heights, CA Professional Dryer Vent Cleaning
Sierra Vista Maintenance serves Citrus Heights and many other cities in Sacramento County. Residents living in Citrus Heights experience mild winters but also higher summer heat. With the nice weather, there are recreational activities and beaches to take advantage of the hot days. 
Citrus Heights is situated near the major metropolitan area of Sacramento and is close to the California State Capitol, Sacramento Zoo, Old Sacramento, and the Crocker Art Museum. Stock Ranch Nature Preserve is also located in Citrus Heights and provides nature experiences mixed with education. This nature area is filled with lush plants and stunning views and has two miles of walking trails that pass along the Arcade and San Juan Creeks. 
Citrus Heights is home to many public schools but also has 6 local private schools serving students from elementary to high school. 
Why Choose Sierra Vista Maintenance?
Working with Sierra Vista Maintenance gives you quality service with amazing attention to detail. Working with California residents for many years, we know the best techniques to clean and prep your home. It is recommended to have your dryer vents checked and cleaned professionally once a year. Having an annual cleaning by a professional is important for keeping your home safe. 
Choosing to work with our company gets you the lowest price and the most bang for your buck. Customer satisfaction is our top priority and we make sure to clean up any mess you may have. Contact Sierra Vista Maintenance for any home cleaning services today!