Dryer Vent Cleaning Services In El Dorado Hills, CA
Dryer Cleaning can often get overlooked in all the tasks needed in your home. Sierra Vista Maintenance offers many home cleaning and maintenance services to make sure that your home gives a great first impression. Not only does dryer vent cleaning keep your dryer working properly, it helps to prevent fire damage to your home. Keeping your dryer free of dirt and lint will keep your home from starting on fire or causing damage to your dryer and clothes.
Keep your home and family safe by trusting Sierra Vista Maintenance with all your cleaning needs. 
Dryer Vent Cleaning
Dryer vent cleaning is not something you should neglect. Dryer vents that are properly cleaned can affect your day-to-day functioning and the safety of your family. 
Working with Sierra Vista Maintenance gives you a cleaning service that you can trust. Cleaning dryer vents can be hard to reach and clean effectively. Without proper tools, cleaning can get frustrating and inconvenient. Let us make your life easier. Reach out to us for dryer vent cleaning services today. 
When we come to clean your dryer vents you can expect a full inspection of your vents to ensure that we clean everything properly. Our team will then brush and vacuum the dryer lint trap and the dryer vent pipe. Once cleaning is finished we will test the airflow in your dryer to show that the vent pipe is properly cleaned. Once we clean, we don't just leave it at that. We check for any other hazards that may harm you or your family. Our experts know what to look for and keep your home safe. 
Home Exterior Maintenance Services
Dryer Vents are not the only area of your home that needs constant attention. Sierra Vista offers many exterior cleaning services including:
Window cleaning

Gutter cleaning

Pressure washing

Residential solar panel cleaning

Commercial solar panel cleaning

Roof cleaning

Patio cleaning

Driveway cleaning

Commercial services

Real estate cleaning
Working with the exterior of homes is our specialty. Our team works hard to have professional work, keen attention to detail, and great customer service. We stand behind our work 100%. All of our work is performed with the highest precision and safety because not only do we want to clean your home, we want you and our team to be safe. 
Cleaning services work to clear leaves, dirt, and other loose debris from your roof, gutters, and downspouts. Keeping these items out of the exterior of your home makes for a great-looking home in California.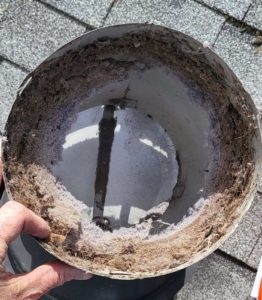 El Dorado Hills, CA Professional Dryer Vent Cleaning
El Dorado Hills, also known as "The Golden" Hills is in El Dorado County in the Greater Sacramento region. With tons of diverse landscapes, there are many scenic views to explore. The rich history of El Dorado Hills is full of hiking, lakes, reservoirs, and national forests. 
Whitewater rafting is a big tourist and local attraction. Whitewater rafting on the American River is very popular. Rafting is not the only activity that can take place on the rivers in California, there are also many fish species that live in the rivers and reservoirs in El Dorado. 
The Hills of El Dorado provides guests to enjoy wine tasting and exploring the wineries nearby. Nearby Apple Hill is host to a variety of fruit orchards, pumpkin farms, bake shops, craft fairs, and breweries.
Why Choose Sierra Vista Maintenance?
Working with Sierra Vista Maintenance gives you quality service with amazing attention to detail. Working with California residents for many years, we know the best techniques to clean and prep your home. It is recommended to clean your dryer vents and have them cleaned professionally once a year. Having an annual cleaning by a professional is important for keeping your home safe. Cleaning them yourself can help to keep up on maintenance, but professionals can make sure that deep into your vents are unclogged. 
Choosing to work with our company gets you the lowest price and the most bang for your buck. Customer satisfaction is our top priority and we make sure to clean up any mess you may have. Contact Sierra Vista Maintenance for any home cleaning services today!