Dryer Vent Cleaning Services in Elk Grove, CA
One of the most important parts of being a homeowner or business owner is making sure that your property is properly taken care of. You will be more comfortable in your home if it is clean and maintained, and your clients would likely take your business more seriously if it is well taken care of. Taking care of your property also offers you, as the owner, many different benefits. Your property will last longer and will have a better appearance. We at Sierra Vista Maintenance offer several great maintenance services that will help improve your property.
Why Clean Your Dryer Vents
One of the maintenance services that we offer here at Sierra Vista Maintenance is dryer vent cleaning. Dryer vent cleaning is one of the tasks that tend to fall to the bottom of a homeowner's to-do list. However, making sure to clean your dryer vents is extremely important. The reason for this is that dryer vent cleaning ensures that your dryer works properly. If your dryer vent is not cleaned regularly, the efficiency of your dryer will be majorly affected. When you get your dryer vent cleaned, dirt and lint are removed from the vents. This debris could cause the performance of your dryer to decline. Cleaning your dryer vents is also important because it prevents a fire hazard. 
For dryer vent cleaning services that you can rely on, reach out to us at Sierra Vista Maintenance. We can make your life easier when it comes to exterior maintenance. Reach out to us for dryer vent cleaning services today.
Exterior Cleaning Options
We at Sierra Vista Maintenance provide our clients with more than dryer vent cleaning services. Our highest priority is to make our clients' lives easier and more convenient. We offer several different exterior cleaning services in addition to dryer vent cleaning services in order to help give our customers more comprehensive options. We offer services to both residential and commercial clients.
Our other services include the following: 
Window cleaning

Gutter cleaning

Pressure washing

Solar Panel Cleaning

Roof Cleaning

Dryer Vent Cleaning

Patio and Driveway Cleaning

Real Estate Cleaning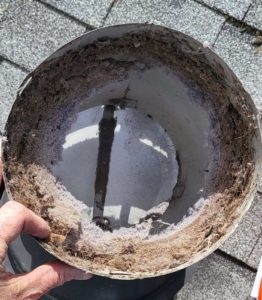 Elk Grove, CA Professional Dryer Vent Cleaning
Elk Grove, California is a city located in Sacramento County. Elk Grove sits a quick thirty-minute drive away from California's state capital, Sacramento. Elk Grove serves primarily as a housing community. However, with the close proximity to Sacramento, Elk Grove is still a great place to live if you are looking for somewhere to live with employment opportunities. Elk Grove is a safe and comfortable area with many great schools, parks, and restaurants. Due to the nice weather and the lovely houses that are located in Elk Grove, the area tends to be an attractive place to live for many people.
Dryer vent cleaning services are extremely important for homes in Elk Grove. Both new homes and older homes need to have their dryer vents cleaned occasionally. If you are living in Elk Grove and think that your dryer vent could use a cleaning, reach out to us at Sierra Vista Maintenance. 
Why Choose Sierra Vista Maintenance?
We at Sierra Vista Maintenance offer quick and convenient dryer vent cleaning services. We would like to be your choice for exterior maintenance services. The reason why you should choose us is because we are not only conveniently located, but we are dedicated to helping our clients achieve the very best appearance for their home that they can. That is why we offer many different exterior maintenance services. We want to help protect your home from potential dangers, including fire, by providing efficient dryer vent cleaning services. For more information, reach out to us today.