Dryer Vent Cleaning Services In Fair Oaks, CA
If you own a home, it is very likely that you also own a washer and dryer. Doing laundry is a common household chore that people participate in at least once or twice a week. With this activity comes the responsibility to keep the machines clean and in proper working order. 
Cleaning out your dryer vents inside the dryer, but also in the pipes that connect to the dryer can be the difference between a fire or not happening in your home. This maintenance may get overlooked in the long list of things that are required as a homeowner, but it is important for keeping your home life comfortable.
Dryer Vent Cleaning
With all the small spaces and openings in your home, dryer vents often get forgotten. They are often out of sight and out of mind and fall to the bottom of your to-do list. You should not neglect cleaning this seemingly insignificant space not only for the efficiency of your dryer but also to limit a fire hazard from your home. Dryer vents can become full of lint and dust that should be cleaned out regularly. Cleaning your dryer vents will provide protection for you and your family.
Working with Sierra Vista maintenance gives you a cleaning service that you can trust. Dryer vents can be hard to reach and clean effectively. Without proper tools, cleaning can get frustrating and inconvenient. Let us make your life easier. Reach out to us for dryer vent cleaning services today. 
When we come to clean your dryer vents you can expect a full inspection of your vents to ensure that we clean everything properly. Our team will then brush and vacuum the dryer lint trap and the dryer vent pipe. Once cleaning is finished we will test the airflow in your dryer to show that the vent pipe is properly cleaned. Once we clean, we don't just leave it at that. We check for any other hazards that may harm you or your family. Our experts know what to look for and keep your home safe. 
Home Exterior Maintenance Services
Our whole goal at Sierra Vista Maintenance is to improve the appearance and efficiency of your home. Because of this goal and our dedication to our clients, we provide many services to keep the outside of your home looking professional. Choosing the right maintenance service is vital to the success of different exterior applications including gutters, windows, and solar panels. That is why we offer several other services in addition to dryer vent cleaning.
Our other services include the following: 
Window cleaning

Gutter cleaning

Pressure washing

Solar Panel Cleaning

Roof Cleaning

Dryer Vent Cleaning

Patio and Driveway Cleaning

Real Estate Cleaning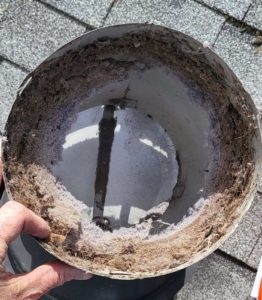 Fair Oaks, CA Professional Dryer Vent Cleaning
Fair Oaks is located in Sacramento County, California, and has a population of around 30,912. The town center of Fair Oaks is called Old Fair Oaks Village which is located about a half mile away from the American River Parkway. The Veterans Memorial Amphitheater is also located in this part of town. 
Fair Oaks hosts the Fair Oaks History Center, Fair Oaks Theater Festival, the Fair Oaks Fiesta and Car Show, and the annual Fair Oaks Chicken Festival in September. The town has a population of around 200 chickens that roam the Fair Oaks village. 
Located near the American River Parkway, Fair Oaks, CA has many bike trails including the American River Parkway Bike Trail. It also is home to a variety of parks and coffee shops for residents and visitors to enjoy. During the summer months, Fair Oaks hosts outdoor concerts, comedy events, and Farmers Market Tuesdays. 
Although Fair Oaks is a densely populated suburban area, it is a close community and can be a great place for those who want to explore and grow personally or professionally. Fair Oaks celebrates new residents and new businesses. 
Why Choose Sierra Vista Maintenance?
Sierra Vista Maintenance serves many cities and towns in the Sacramento Valley. We work hard to make sure our clients have an enjoyable experience with us and are satisfied with the results of our maintenance jobs. Our staff are courteous, prompt, and keep your home clean.
Although our business was established in 2010, building our character has been a lifelong process. Kelly, our owner, has been a part of commercial and residential cleaning for years. He has instilled a passion and attention to detail into the whole team and is prepared to offer customer service to those who choose to work with us. 
Let our expert team bring out the shine with our professional gutter cleaning, pressure washing, exterior house washing, and window cleaning services. Get an estimate or quote today.