Pressure Washing Services
Everyone has those tasks that just seem to never get done. You get up in the morning and think to yourself, "I'm going to get that thing done today," and somehow things come up that prevent you from getting it done. A common task that people want to get done but can't due to missing the time or energy to complete the task is cleaning the exterior of their home. Has your home been looking slightly dingy or like it could use a good washing? If you answered yes to this question, you may want to consider reaching out to Sierra Vista Maintenance. We pride ourselves in providing our customers with high-quality pressure washing services that help their homes look great.
Pressure Washing To Improve Your Home
If you have been looking for a way to improve the appearance of your home, you may want to consider getting professional pressure washing services. Often people think about tidying up the interior of their home, but exterior maintenance can sometimes get neglected. Pressure washing services are so important not only because they make your home look more appealing, but because they ensure that your home is protected from harsh elements.
If dirt and grime build up on the exterior of your home, they could begin eroding away at your brick. Pressure washing removes dirt and grime as well as any other problematic substances. Pressure washing can remove mold and can blast away leaves that are stacking up on your roof and in your gutters. Animal droppings can be an eyesore and can also create issues with the exterior of your home. Remove them with pressure washing services.
Protect Your Property
Pressure washing services are essential for protecting your property from unwanted substances and for keeping your home in good condition. However, you may not always be in need of pressure washing services. Perhaps you want to focus on a specific part of your home. If you are looking to get any part of the exterior of your home cleaned, contact us at Sierra Vista Maintenance.
Some of the services we offer include:
Window cleaning

Roof cleaning

Pressure washing

Gutter cleaning

Dryer vent cleaning

Patio and driveway cleaning

And more!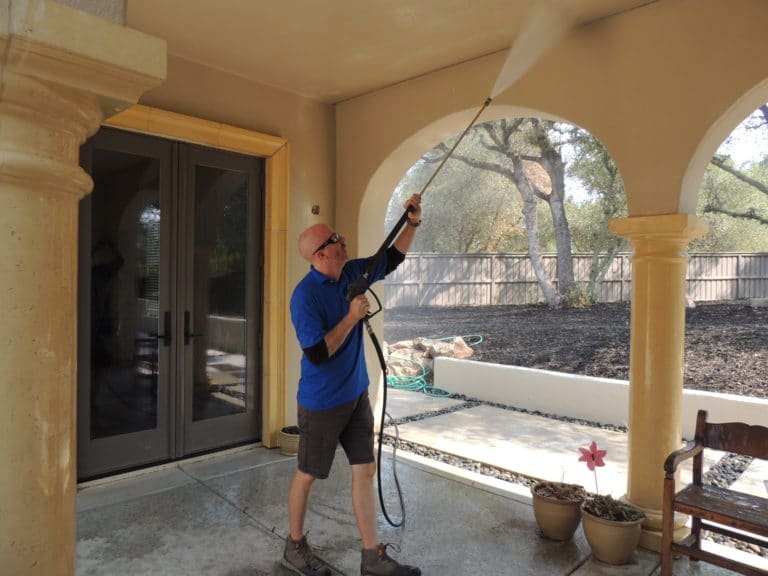 Auburn, CA Professional Pressure Washing
Auburn, California is located in the northern part of California, near the Sierra Nevada Mountains. Auburn is situated in Placer County in the greater Sacramento metropolitan area and is a lovely place to live. It is a family-friendly city, and many retirees and young professionals make Auburn their home. There are lots of restaurants and parks in Auburn and all sorts of hiking trails to explore. Auburn has a long, rich history that extends back to the California Gold Rush.
Auburn is primarily a suburban area with lots of houses and buildings. In Auburn, there is plenty of sunshine to enjoy, shining down on the city for much of the year. Because of the sun, it can at times get very hot in Auburn. During the summer months, it can be a pain to have to go outside and clean your house, despite the fact that it may need to be cleaned. Luckily, we at Sierra Vista Maintenance are at your service and will provide you with excellent pressure washing options to keep your home looking fresh and clean.
Why Choose Sierra Vista Maintenance?
We at Sierra Vista Maintenance are passionate about pressure washing and helping our customers maintain their properties. We offer many different services that are aimed to help protect, preserve, and maintain our customer's homes. If you are looking for high quality exterior cleaning services that are available in Auburn, California or the surrounding area, look no further than to us at Sierra Vista Maintenance. Our experienced team will quickly access your property and have it looking good as new in no time. For more information, feel free to reach out to us at Sierra Vista Maintenance today.