Pressure Washing Services In Cameron Park, CA
Is your home's exterior starting to look dull and a bit grimey? Sierra Vista Maintenance's pressure washing services can help! Before you consider repainting your home's exterior, you should consider a good pressure washing in order to revitalize your home. Oftentimes, when your property is looking dull, all it needs is a good, deep clean in order to remove the buildup of dirt and grime, brightening it and making it look as good as new. Even if you still wish to paint it, paint will end up peeling and chipping off of a surface that isn't thoroughly cleaned.
If you're concerned about the appearance of your home and whether or not you need to bust out the paint and start making phone calls to have your decks replaced, contact Sierra Vista Maintenance to come out and do a pressure wash. You'll be stunned at what our high-quality pressure washing services can do for your home's beauty and safety.
Protect Your Family's Health
The dullness that dirt and grime can bring to your home's exterior surfaces can be extremely time-consuming to try to clean yourself, not to mention the fact that many cleaners have harmful chemicals, which are bad for the environment and for you. Professional pressure washing thoroughly cleans your home in a fraction of the time it would take you to do it yourself, and does so at a much deeper level. Not only does pressure washing restore your Cameron Park home to its former glory, but it also makes it safer and healthier for you and your family.
When the exterior surfaces of your home are left uncleaned, or are not cleaned on a regular basis, it's easy for mold and moss to grow. These can create health risks, as well as make walking around hazardous. Dirt left on your home will damage it over time, increasing the amount of maintenance and repairs you'll need to keep your home in good condition. Sierra Vista Maintenance's high quality pressure washing will protect your home and keep it clean from the top down. 
Pressure washing is excellent for many exterior surfaces:
Driveways

Decks and patios

Concrete

Siding

And more!
Restore Your Home's Curb Appeal
The exterior of your home is the first thing that people notice about it, but keeping said exterior clean can take a lot of work and time. It's why there are so many people who love the idea of a sparkling clean exterior but keep putting it off, because they just don't have the time or the energy to take care of it themselves. Not to worry—Sierra Vista Maintenance is here to help. We offer professional cleaning services that will keep your home beautiful and in good condition, reducing the amount of maintenance needed to keep it that way. 
In addition to our pressure washing, we provide many other services:
Roof cleaning

Gutter cleaning

Window cleaning

Solar panel cleaning

Dryer vent cleaning

Commercial services

And more!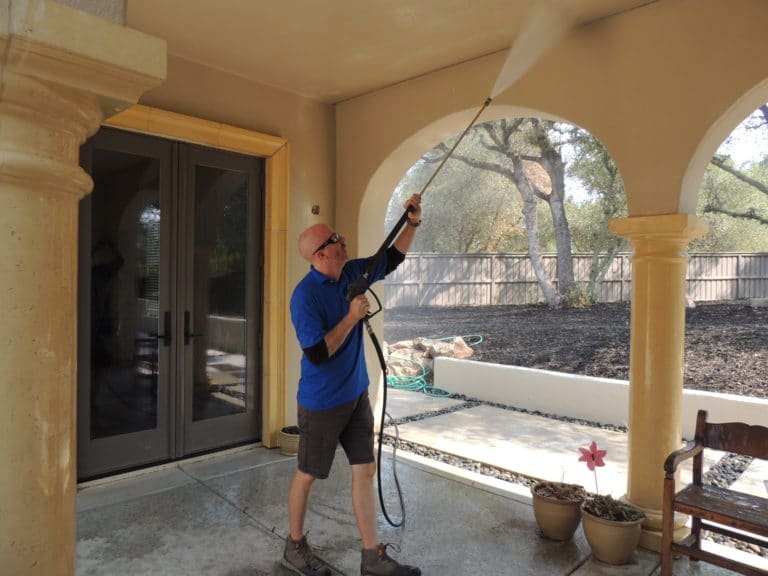 Cameron Park, CA Professional Pressure Washing
Cameron Park is a beautiful and safe town within the Sierra Nevada foothills which offers its residents a sparse suburban feel. The residents love it for its family-friendly atmosphere and community that truly cares for each other. While rural, there's no shortage of amenities, and the nearby Cameron Park lake park has miles of beautiful trails. The schools are wonderful and the properties gorgeous. Cameron Park has everything from ranch-sized properties to condos to businesses, all of which can most certainly benefit from pressure washing services.
When you live in a hot area like this, it's easy for the dirt to accumulate, and it can be very time consuming to try to clean your home yourself. Let Sierra Vista Maintenance take care of it for you and breathe new life into your home's exterior with our professional pressure washing services.
Why Choose Sierra Vista Maintenance?
At Sierra Vista Maintenance, we know how important your time is, and we know how important it is to trust that the people you hire to clean your home will do it well. Our fast, professional, high quality services are sure to astound you. Customer satisfaction is our top priority, which is why we ensure that all of our professionals are expertly trained and that all of our equipment and products are top of the line. Is it time to brighten up your home and get rid of all that dirt buildup? Contact us today for your Cameron Park pressure cleaning service!