Pressure Washing In Citrus Heights, CA
The exterior of your home is constantly exposed to the elements, as well as insects, bird droppings, dirt, and other such debris that can dull your surfaces and damage them over time. Pressure washing is the most efficient and effective way to blast away the grime and clean your property. Trying to clean your home's sides, your driveway, your decks, or your concrete yourself is an extremely time-consuming job.
Your time is valuable and so is the importance of a thorough cleaning that will truly get every bit of dirt away, which is why you should hire Sierra Vista Maintenance for our pressure washing services. Professional pressure washing takes a fraction of the time cleaning your home does than doing it by hand, and does a much better job too. There's no question that your Citrus Heights home will be revitalized by our exceptional pressure washing services.
Save Time On Cleaning Your Home
Pressure washing cuts the time it takes to clean your property down significantly. Rather than needing to bust out the cleaning solutions and get materials for scrubbing and all this, you can hire Sierra Vista Maintenance to pressure wash your home. We'll bring your property new life while you can sit back and relax and know that your home will be bright and beautiful in no time. Not only does pressure washing save you time, but it also saves you money. Left uncleaned, dirt and grime and bird droppings can damage your home's exterior. They don't just look bad, but they can also create the need for repairs if you don't have them routinely pressure washed away.
Pressure washing is the way to boost your home's curb appeal, reduce your maintenance, save you time and money, and make your home a safer place to be, by cleaning away harmful mold and mildew. It's also much easier on the environment, as there are no harmful chemicals involved – just water blasted at a high velocity. When you hire Sierra Vista Maintenance to do a pressure wash, you'll be able to ensure that your home looks its best and is kept in good condition for longer.
Environmentally-Friendly Services For Your Exterior Surfaces
While we're proud of our pressure washing services, that's not all that Sierra Vista Maintenance can do for you. The exterior of your home is hard to clean yourself, especially in a way that won't hurt the environment or you. Sierra Vista Maintenance uses environmentally friendly products, and our team is professionally trained to ensure that all of our services are conducted as safely as possible. There's no need for you to lift a finger when it comes to cleaning the exterior of your home. Let us do the dirty work for you with our roof cleaning, our gutter cleaning, our solar panel cleaning, our dryer vent cleaning, or any of our other services.
Your home says a lot about you and we want it to reflect how much you care about keeping it in good condition. Whatever you need, be it pressure washing or window cleaning, we want to help you make your Citrus Heights home shine from your roof all the way down to your driveway.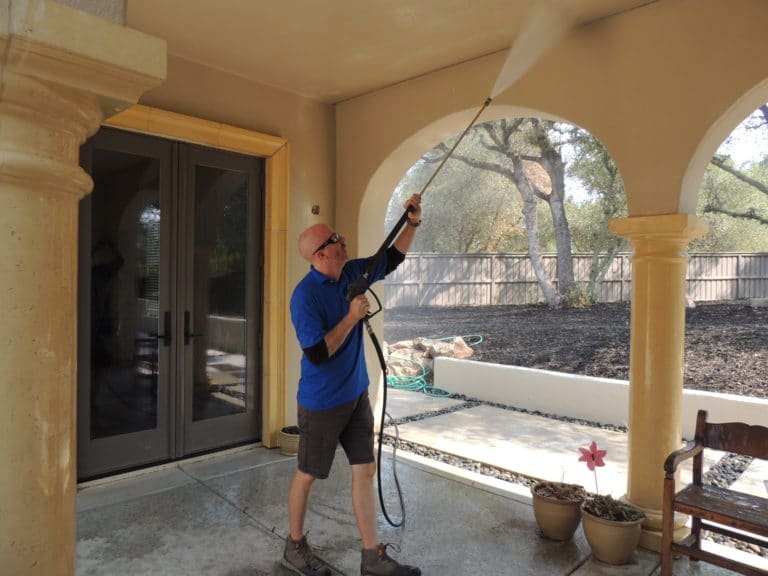 Citrus Heights, CA Professional Pressure Washing
Citrus Heights is a quiet suburban city within the Greater Sacramento area that boasts a wonderful community with good schools. There are many parks and trails scattered throughout the city, and while it can get hot, the people of Citrus Heights enjoy the entertainment and amenities at their fingertips. The local bookstores are something many residents cite as being one of their favorite parts of living here, as well as the fact that Citrus Heights is a welcoming, diverse community. In such a lovely place as this, you'll want to protect your home's exterior and help it look its best however you can.
You don't want dirt and grime to damage your home's surface, resulting in repairs further down the line and a home that just doesn't look as nice as it used to. Not to worry! Sierra Vista Maintenance offers family-safe pressure washing services that will clean your home's surfaces from your concrete to your siding and ensure your home is as safe and beautiful as Citrus Heights is known to be.
Why Choose Sierra Vista Maintenance?
When you live in a place like Citrus Heights, you expect friendly, professional services, and that's exactly what Sierra Vista Maintenance provides. It's a big gesture of trust to hire someone and put the care of your home into their hands. We value that, which is why we openly communicate with you every step of the way and ensure that all of our services are the highest quality. When your home is looking drab, no need to bust out the paint just yet. Contact us today to schedule your pressure washing service to make your home look as good as new.