Pressure Washing Services
Pressure washing services are performed all over the country in all sorts of different climates and for all sorts of different home surfaces. However, one thing that most pressure washing services have in common is that they are typically completed during the summer months when everyone has emerged from their homes to see what winter has done to them. Pressure washing is an important service in California as it is warm year round, meaning people are outside a lot of the time.
Pressure Washing Services Offer Protection To Your Property
Pressure washing is incredibly important for ensuring that your property is well taken care of and protected from a variety of substances. Dirt, sand, and other debris can accumulate on the surface of your house and slowly cause wear and tear over time. Also if you live in a lighter colored house, as many of us do in California, the dirt can end up making your house look rather dirty. 
Pressure washing services also provide protection against allergens coming from the outdoors including dust and pollen. With professional pressure washing services, you can also protect your home from mold and mildew. Lastly, pressure washing can also remove rust and old paint, so if you have a section of your home that has metal that is beginning to get rusty or has peeling paint, you may want to consider getting pressure washing services.
Protect Your Other Outdoor Surfaces
It is so important to care for the exterior of your home. Brick and siding can get dirty or look rather grungy if not properly cared for. However, there are also other surfaces that are on the exterior of your home that need to be cleaned and properly taken care of in order to ensure that your home is completely clean and protected. We at Sierra Vista Maintenance are proud of our pressure washing services, but we are known for more than pressure washing.
Some of the other services we offer include:
Window cleaning

Roof cleaning

Solar panel cleaning

Gutter cleaning

Dryer vent cleaning

Patio and driveway cleaning

And more!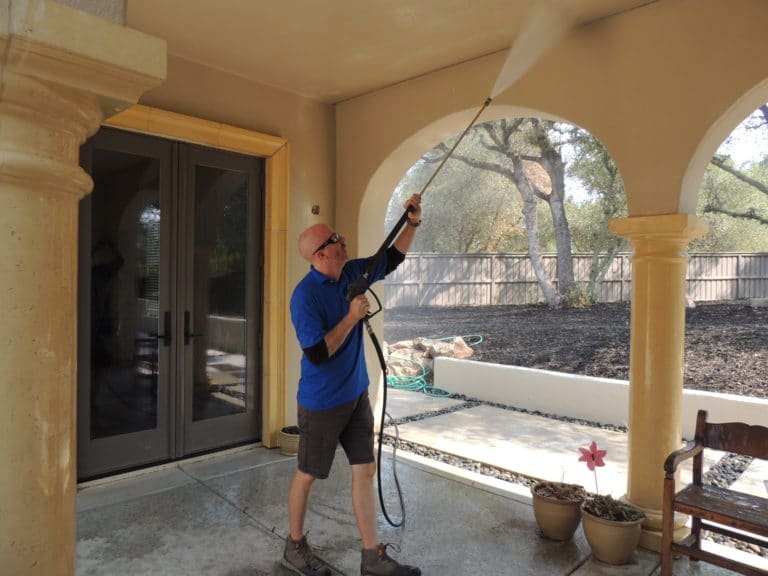 Diamond Springs, CA Professional Pressure Washing
Diamond Springs, California is a small town located in the suburbs of Sacramento and is known for being a very safe and friendly place to live. Young professionals, retirees, and families reside in Diamond Springs, making it a versatile and comfortable area for many different people to live.  There are several restaurants and businesses in Diamond Springs. It is a quaint area that sees all of the seasons but has warm, arid, and clear summers.
Living in California can be expensive, even in areas like Diamond Springs. However, like many other places, residents of Diamond Springs like to keep their homes looking presentable in an attempt to keep the community looking well. If you are living in Diamond Springs and are in need of help getting your home looking clean and well maintained, we at Sierra Vista Maintenance would be more than happy to be of help at reasonable rates. Reach out to us for quality pressure washing services or for other home exterior cleaning services.
Why Choose Sierra Vista Maintenance?
We at Sierra Vista Maintenance strive to provide our clients with the highest quality maintenance services possible. Not only do we offer all sorts of maintenance and cleaning options, but we also have several of the most professional and experienced maintenance staff around. We are efficient and effective and will do everything we possibly can to ensure that you receive the very best results for your property. If you are interested in getting professional pressure washing services completed, or want to learn more about pressure washing, feel free to reach out to us at Sierra Vista Maintenance.