Pressure Washing Services In El Dorado Hills, CA
Yes, we all know that dirt brings down the curb appeal of your home, but did you know that it can also damage it, increase your maintenance, cause health issues, and lower the overall value of your property? With so many negative consequences that can result from allowing dirt to build up, you'll want a thorough way to clean your exterior surfaces that will last. That's where pressure washing comes in. Sierra Vista Maintenance can save you time, money, and energy with our professional pressure washing services that will boost your curb appeal, increase the longevity of your surfaces, and make your El Dorado Hills property a healthier and safer place to be.
Eco-Friendly Property Cleaning
It's often difficult to truly notice the buildup of dirt on our properties, as it usually happens very gradually until one day, you're standing outside your home and wondering when it became so unsightly. The dirt, grime, and mold not only mar the appearance of your home, but they also pose health risks to all who live there and all who visit. These things can make your surfaces slippery to walk on, and breathing them in can cause all sorts of health problems, such as respiratory issues. The last thing you want is for harsh chemicals in cleaning products to make that worse.
Sierra Vista Maintenance's professional pressure washing services will remove said dirt and grime and mold, making your home safer and restoring its beauty. As pressure washing uses high-velocity water to blasts your surfaces clean, there's no need to worry about coughing and choking on chemicals in the air. Plus, it's no secret that the cleaner your home and the more routinely you have it cleaned, the better condition it will be in for longer. Pressure washing thoroughly cleans your exterior surfaces from your driveway to your deck and patio to the sides of your home, reducing your maintenance greatly.
Clean From The Roof Down
Trying to clean your house yourself can be hazardous, especially if you are not a trained professional with the proper equipment and products. And frustrating as it is, even if you put in significant elbow grease, you likely won't be able to get your home as sparkling clean as a professional could. There's no need for you to worry about falling off a ladder or trying to figure out when you have the time to clean your roof, your windows, your home's sides, your driveway, your dryer vents, your solar panels, etc.
Sierra Vista Maintenance can do all of this for you in addition to our pressure washing services. El Dorado Hills is such a lovely place to live, and we want to help your home match that. With our expert cleaning services, there's no need to worry about your home being the dirty one on the block. We'll keep it fresh and bright and beautiful as can be with our friendly and professional work.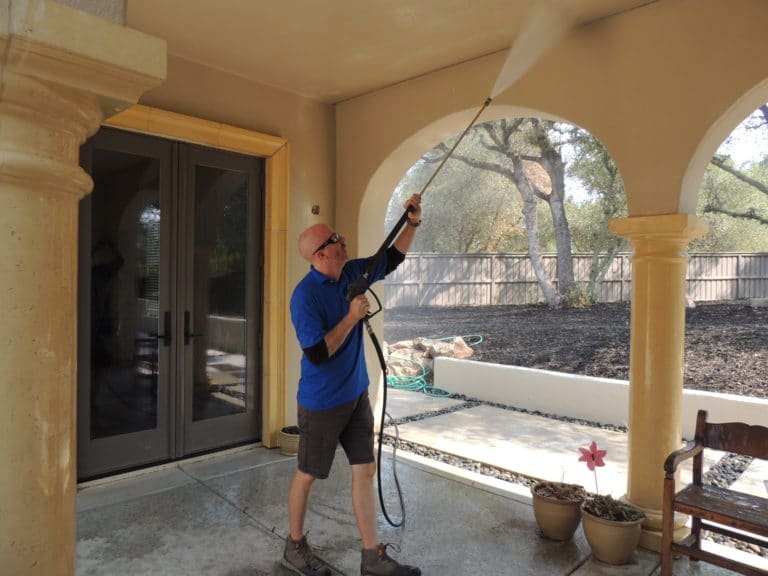 El Dorado Hills, CA Professional Pressure Washing
With beautiful weather all year round, El Dorado Hills offers its residents many benefits, such as premium schools, safey, and everything you could need within a short 15 minute drive. From trails to shopping to restaurants to gorgeous Folsom Lake, El Dorado Hills has all the perks of a big city while maintaining a mostly rural atmosphere. With endless opportunities from recreational activities to jobs, is it any wonder why people gravitate towards El Dorado Hills to settle down?
El Dorado Hills places a lot of importance on being environmentally friendly, and so do we. Our pressure washing services will elevate your home's surfaces and remove any hazards from your property such as mold without any harmful chemical cleaners. It's not just your home's exterior that can benefit from Sierra Vista Maintenance's exceptional pressure washing—so will your driveway, your deck and patio, and more.
Why Choose Sierra Vista Maintenance?
There are many cleaning companies out there, which can make choosing the right one for you hard. Sierra Vista Maintenance has been serving the people of the Greater Sacramento area for over a decade, so we're very familiar with all the things that can dirty your property. We place immense value on the quality of our work, so you'll know that when you hire us to clean your El Dorado Hills home, we will be detail oriented, professional, and communicative. If you're looking for professional power washing, our professionals are the ones you want to work with. Contact us today, and let us help you bring your property back to life!