Pressure Washing Services
If you are a homeowner, you understand the importance of taking care of your property. If you are a homeowner with children, you understand that it may not always be the easiest task to keep your property clean and well-maintained. If you are having difficulty keeping up with the exterior cleaning of your property or are in need of some serious maintenance help, we at Sierra Vista Maintenance are happy to be of service. We offer pressure washing services to keep the exterior of your home looking beautiful and clean.
The Benefits Of Pressure Washing Services
There are many benefits of hiring professional pressure washing services. Firstly, your home will be better protected from harmful substances. Mold and mildew can form on the outside of your home and spread to the interior of your house. Pressure washing services can quickly and easily remove mold and mildew. Your home will also be better protected from dirt and debris that can eat at the brick on your house.
Another benefit of pressure washing services is that they ensure that your home looks more appealing. Sometimes dirt, sand, and other debris can collect on the surface of your home making it look unclean and less attractive. Especially if you live in a light-colored house, it is important to keep the exterior of your home looking fresh and clean.
If you are living in the greater Sacramento area, consider reaching out to us at Sierra Vista Maintenance.
Maintenance For Your Entire Home
We at Sierra Vista Maintenance provide our customers with more than simple pressure washing services. We offer all sorts of different options that are intended to help you keep the exterior of your home clean and protected. Keeping the exterior of your home clean can bring many different benefits including feeling more peaceful and proud of your home, keeping away any potential animals from building nests on your roof, and being able to see through your windows to the outside world. 
Some of the other services we offer include:
Window cleaning

Roof cleaning

Solar panel cleaning

Gutter cleaning

Dryer vent cleaning

Patio and driveway cleaning

And more!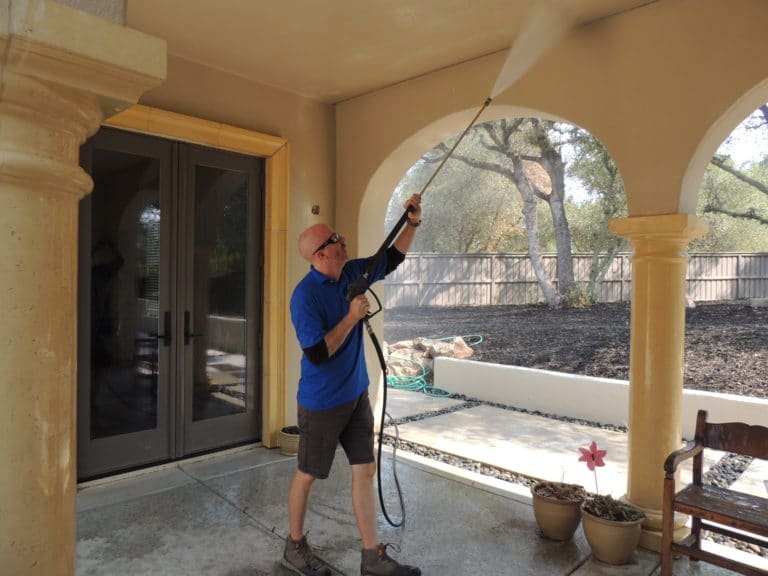 Elk Grove, CA Professional Pressure Washing
Elk Grove, California is a city located in the greater Sacramento, California area. Elk Grove offers many regular city amenities such as restaurants, businesses, and schools, but it is also a fantastic spot for both young professionals and families to live. Elk Grove is a very safe area and there are many parks located there. Due to the nice, warm conditions that tend to stick around throughout the year and the gorgeous views in Elk Grove, residents are able to enjoy the outdoors. Because Elk Grove is such a nice place to live, there are a lot of people that settle there, meaning there is a genuine, close-knit community. However, it also means that it can be rather expensive to live in Elk Grove.
Summer is the time of the year that many people throughout the year begin to focus on getting the exterior of their home and their yards looking nice. However, that is one of the disadvantages of living in a warm area year-around; people are always outside and seeing other people's homes. If you are living in Elk Grove, you will likely need pressure washing services on occasion. In order to improve your home's appearance, feel free to reach out to us at Sierra Vista Maintenance.
Why Choose Sierra Vista Maintenance?
We at Sierra Vista Maintenance are happy to provide our customers with many different options when it comes to maintenance. We pride ourselves on offering excellent customer service, high quality services, and tangible results. We have an extremely talented maintenance team that will be able to provide you with help for your specific needs. If you have questions regarding pressure washing or any other exterior cleaning service, we at Sierra Vista Maintenance would be more than happy to answer you questions. For more information or to schedule maintenance, feel free to reach out to us today.