Pressure Washing Services In Fair Oaks, CA
Pressure washing has become one of the best ways to clean your property, and with how quick and thorough it is when done by professionals like our Sierra Vista Maintenance team, it's easy to see why. Why scrub and scrub and scrub for hours and hours on end when professional power washing can thoroughly remove the dirt, grime, moss, and mold from your exterior surfaces in a fraction of the time? Charming as all the trees in Fair Oaks are, they also make it a lot easier for your property to get dirtier in a short amount of time. Pressure washing will keep it cleaner longer, enhancing the beauty, safety, and functionality of your home.
Enhance Your Curb Appeal
Not only can trying to clean your property take up much of your time, but it can also get complicated, as you try to find the best cleaning solution for each surface. Not only will Sierra Vista Maintenance clean your property much more efficiently and effectively, but pressure washing simplifies the process, as it works on a wide range of surfaces. Our professional pressure washing will brighten your home's sides, remove the dirt from your driveway and concrete, get mold off your deck and patio, and remove moss off your roof, just to name a few of our services. From the roof down, pressure washing can breathe new life into your home, blasting away all that unsightly grime.
In addition to enhancing your curb appeal, pressure washing makes your home safer and healthier. Mold can cause health issues, and you don't want to slip on moss or have your concrete damaged by dirt. Sierra Vista Maintenance's high quality pressure washing services reduce the amount of maintenance needed to keep your home in good condition by preventing dirt buildup from causing damages. Who doesn't want a quick and easy way to make their home look good as new and save you money in the long run?
High Quality Services You Can Rely On
When you hire Sierra Vista Maintenance for your pressure washing, you can rest assured that you're working with expertly trained professionals who use high quality equipment to ensure the best possible results. In addition to our pressure washing services, we want to help you keep the exterior of your home as clean as possible. The cleaner your home, the longer it can stay in good condition. Plus, a clean home is so much prettier than a dirty home.
Some of the services we can provide you with include:
Roof cleaning

Gutter cleaning

Solar panel cleaning

Driveway cleaning

Window cleaning

Dryer vent cleaning

Deck and patio cleaning

And more!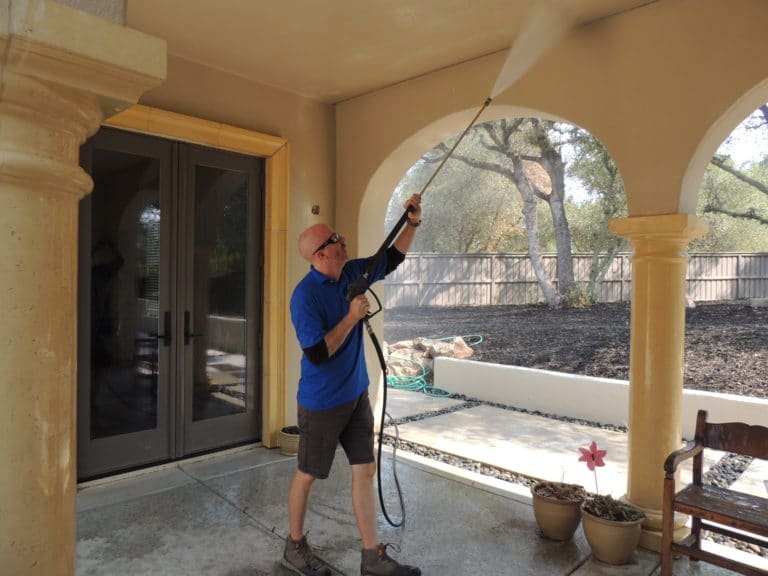 Fair Oaks, CA Professional Pressure Washing
Fair Oaks is a charming, small suburban community that gives its residents a close atmosphere, one that is comfortable and lovely with all the trees in the area. There are many local businesses, amenities, and things to do, including parades and the Chicken Festival. The nearby river allows residents to get outdoors and enjoy the trails, as do the many parks and lakes in the area. The older homes and mom-and-pop shops give Fair Oaks a small-town feel. This bedroom community is in such a beautiful location, the last thing you want is for your property to stick out in a negative way because it needs to be pressure washed. Sierra Vista Maintenance is among the best of the pressure washing companies in the area.
We wouldn't want to cause any harm to your home or the environment, which is why our pressure washing services are an environmentally friendly way to breathe new life to your home's exterior surfaces. Not only that, but we respect your time, and pressure washing allows us to give your home a thorough, deep clean in a fraction of the amount of time doing it by hand would take. We're confident that your Fair Oaks home will benefit from our top quality services.
Why Choose Sierra Vista Maintenance?
Your home is one of the biggest investments you'll ever make in your lifetime, so you don't want to entrust the cleaning of it to just anyone. You want to trust it to a company like Sierra Vista Maintenance that cares as much about the condition of your Fair Oaks property as you. We are very detail-oriented in our work and place immense pride in our high-quality, professional, and friendly services. Client satisfaction is our top priority. When you hire us for your pressure wash, you can rest assured that we'll astound you. Contact us today to schedule your professional pressure washing service for your Fair Oaks home!