REQUEST YOUR FREE ESTIMATE BY FILLING THE FORM BELOW
Pressure Washing Services In Mather, CA
Mother Nature is beautiful and gives your Mather home such lovely scenery all around it, but it can also dirty your home and cause it to need repairs and impact its safety if you do not have it regularly cleaned. Many people view pressure washing as an unnecessary expense – why pay someone to clean your home for you when you can do it yourself? It's true that you can clean your home yourself, but professional pressure washing from Sierra Vista Maintenance can keep your home cleaner longer and end up saving you money in the long run.
Save Yourself Time And Money
If you've tried to clean your exterior surfaces yourself before, you know how much time and effort goes into it. Surely, your deck isn't this big? You've put in so much elbow grease, why is there still dirt, why are there still spots of mold and the like around? Professional pressure washing does a much more thorough cleaning due to the fact that it involves high quality, professional equipment that can do in mere seconds what home products try to in much longer. Why waste your time when the professionals at Sierra Vista Maintenance can bring new life to your home in a fraction of the time it would take for you to try to do it yourself?
Additionally, pressure washing from the pros saves you money in the long run. This is because since it does such a deep and thorough cleaning, truly getting rid of all that dirt buildup and mold and mildew and the like, it prevents these things from damaging your property. These things can also cause health problems, so by ensuring that they are blasted away by a pressure washer, you can not only protect yourself from needing to make repairs from damages, but also from health expenses that result from the harmful effects mold, mildew, and the like can have on your body.
Professional Services To Make Your Home Shine
Pressure washing isn't the only thing that Sierra Vista Maintenance can provide for you. Professional cleaning services by people who care about each and every one of their clients, like us, will ensure that every bit of dirt is removed from your property. Cleaning your property yourself can be dangerous, especially if you're trying to balance on a ladder while cleaning your windows. Without the expert training and professional equipment, you could end up damaging your property rather than cleaning it, such as with your deceptively delicate solar panels. 
Sierra Vista Maintenance will bring new life to your property from the roof down, and do so in a way that is of the utmost quality and safety, ensuring your amazement at our work.
Some of the services that we provide include:
Roof cleaning

Gutter cleaning

Solar panel cleaning

Window cleaning

Dryer vent cleaning

Deck and patio cleaning

Driveway cleaning

Real estate cleaning

Commercial cleaning

And more!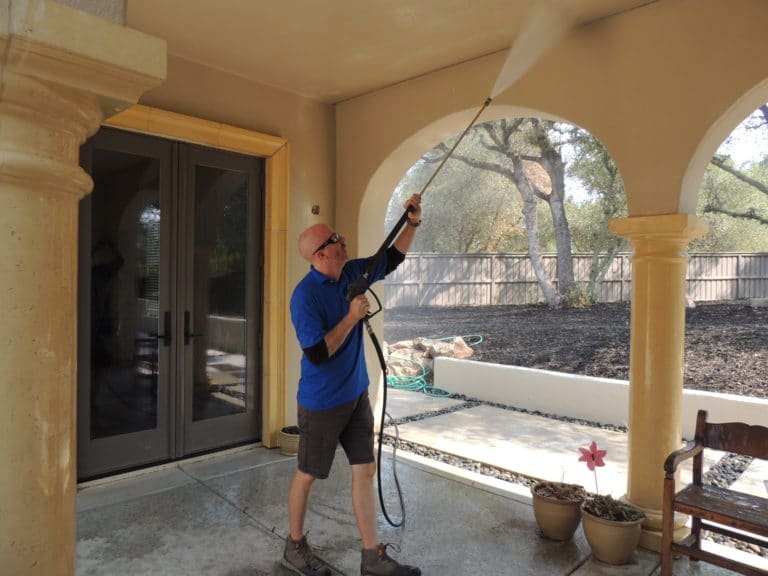 Mather, CA Professional Pressure Washing
Mather is a quiet, homey community about 17 miles southeast of Sacramento that is almost entirely residential. This peaceful town gives residents easy access to amenities such as the Sacramento Children's Museum, and makes it easy to get around, with its convenient location by the Highway 16 and U.S. Route 50. Mather used to be the home of Mather Air Force Base, which has since been closed, so there's no need for residents to worry about loud aircraft overhead.
Such a family-friendly place as this necessitates regular pressure washing from Sierra Vista Maintenance in order to prevent hazards such as mold from accumulating on your home's surfaces, to make them as safe as possible. The people of Mather take a lot of pride in their homes, and when you hire us to pressure wash your home's exterior, you'll ensure that it looks its best while saving you serious time on cleaning.
Why Choose Sierra Vista Maintenance?
When you live in a family-friendly place like Mather, you expect the people you work with to care about you too, not just the job that you hired them to do. It's certainly important for the people you hire to pressure wash your property to do so excellently, but it's also important to know that they care about you, the client, and are friendly, not just in and out. Sierra Vista Maintenance understands this completely.
In addition to ensuring that all of our professionals have received expert training and that our products and equipment are top of the line, we ensure to communicate with you every step of the way in order to ensure that our work is doing what you hoped. We always strive to go above and beyond client expectations. Contact us today to schedule your pressure wash, and let us prove that we're not just talk. Our testimonials glow for a reason.