Pressure Washing Services
One of the first things that children learn is to take care of their toys and to avoid damaging what is theirs. Once children become adults, they begin owning more expensive and valuable property. It becomes important to be mindful of how that property is doing. If you are a homeowner, you likely understand the importance of caring for your property, including keeping both the interior and exterior clean. With our pressure washing services at Sierra Vista Maintenance, you can be assured that your property will be well taken care of and properly maintained. Reach out to us for more information.
Why You Home Needs Pressure Washing Services
Pressure washing offers all sorts of wonderful benefits to homeowners. Not only does pressure washing provide you with a quick and easy way to make your home look and feel cleaner, but pressure washing can also help protect your home from several harmful substances. Pressure washing can remove mold, mildew, dirt, animal droppings, and any pathogens that may be sitting on the exterior surface of your home. Pressure washing is also great for commercial buildings. Whether you own a home or a business, you will certainly want your home to look presentable. Pressure washing can remove graffiti, rust, and old paint, which can help your home look fresh and good as new.
High-Quality Exterior Cleaning Services
We are proud of our pressure washing services here at Sierra Vista Maintenance. We are known for being prompt and professional and for giving our clients excellent pressure washing services. However, we also provide several other services to help our clients' homes and businesses look great. 
Some of the services we offer include:
Window cleaning

Roof cleaning

Solar panel cleaning

Gutter cleaning

Dryer vent cleaning

Patio and driveway cleaning

And more!
If you are in need of pressure washing services or one of our other exterior cleaning services, do not hesitate to contact us at Sierra Vista Maintenance today.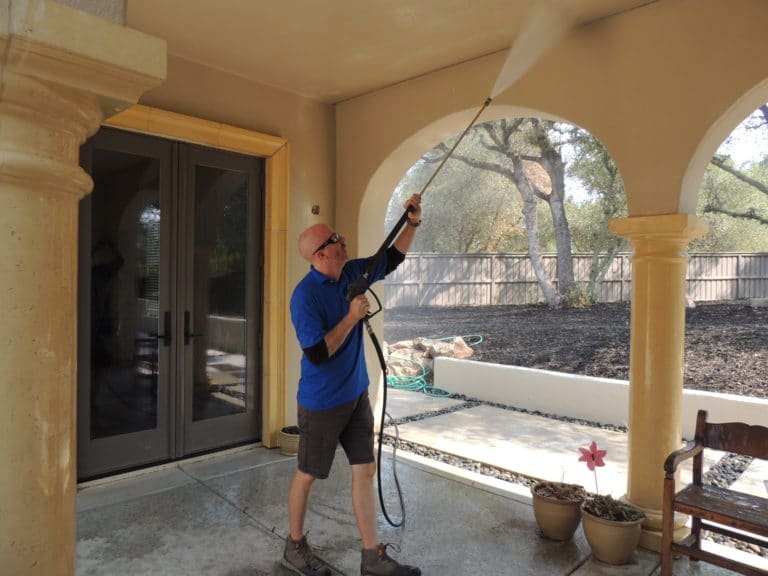 Placerville, CA Professional Pressure Washing
Placerville, California is a city located just a little over an hour away from Lake Tahoe, and it has a lovely view of the Sierra Nevada Mountains to the east. Sacramento is close by, offering Placerville residents many economic opportunities. This small but beautiful city is home to many cute shops and delicious restaurants and offers a wonderful place to raise a family. It is a great place to live if you love the outdoors and are wanting to enjoy the best of California.
However, it can be rather expensive to live in Placerville in comparison to the rest of the country. It is also very sunny and clear here most of the year, so all sorts of people spend their time outside. Due to the amount of people that frequent the outdoors in Placerville, it is important to make sure that your home looks nice from the outside. In order to get a fresh, clean look for your home or building in Placerville, California, feel free to reach out to us at Sierra Vista Maintenance.
Why Choose Sierra Vista Maintenance?
If you are looking for quality pressure washing services, you need not look any further than to us at Sierra Vista Maintenance. We provide comprehensive and professional pressure washing services that are bound to help your house or building shine. Our team is experienced and knows the specific challenges that homes in Placerville face. With this experience and knowledge, we will be able to give your home the very best service possible. For more information about our services or to schedule an appointment for professional exterior cleaning, feel free to reach out to us today.