Pressure Washing Services In Sacramento, CA
Are all the trees around your Sacramento home causing leaves and dirt to build up faster? These not only mar your property's curb appeal, but can also create slippery safety hazards people can trip and fall on. Having your property pressure washed by the professionals at Sierra Vista Maintenance will remove these unwanted substances, making your property cleaner and safer to be around. We offer high quality pressure washing to home- and business owners throughout the Greater Sacramento area that will improve the appearance, safety, and condition of your home quickly and efficiently, with results that will last for months to come.
Breathe New Life To Your Home
Even the cleanest of homes is bound to get dirty and unsightly without routine pressure washing from a professional company like Sierra Vista Maintenance. In spite of our best efforts, there will always be birds who leave their droppings on our surfaces, there will always be dirt that seems like it constantly accumulates, and there will always be leaves falling around trees. It's important to have these things cleaned away to prevent them from damaging your property and resulting in the growth of mold and mildew. Left uncleaned, you'll find yourself in need of repairs that could have been prevented and with a home that's gone from lovely to unsightly.
Pressure washing will breathe new life into your home by removing all that dirt and grime in a fraction of the time it would take to try to do it all by hand. Not only is pressure washing fast and extremely efficient, providing a wonderfully deep and thorough cleaning, but it's also environmentally friendly. Hiring Sierra Vista Maintenance to come out to your Sacramento home to do a pressure washing service is an easy way to help your home look its best and to protect it from preventable damages of dirt accumulation.
Extend Your Property's Lifespan
Everyone knows that clean properties look better. However, many people assume that that is as far as it goes, and don't realize the importance of regular cleaning as part of their maintenance. Dirt not only lessens your home's curb appeal, but it also damages its integrity over time. Regular cleaning, especially from a professional like Sierra Vista Maintenance, will extend your property's lifespan by protecting it from these avoidable damages.
Our pressure washing can certainly help with this. So too can our other services, which range from roof cleaning to driveway cleaning. Regardless of whether your solar panels are looking grimy or if your windows aren't as clear as they used to be, we're confident that your Sacramento home will benefit greatly from our high quality work and friendly service.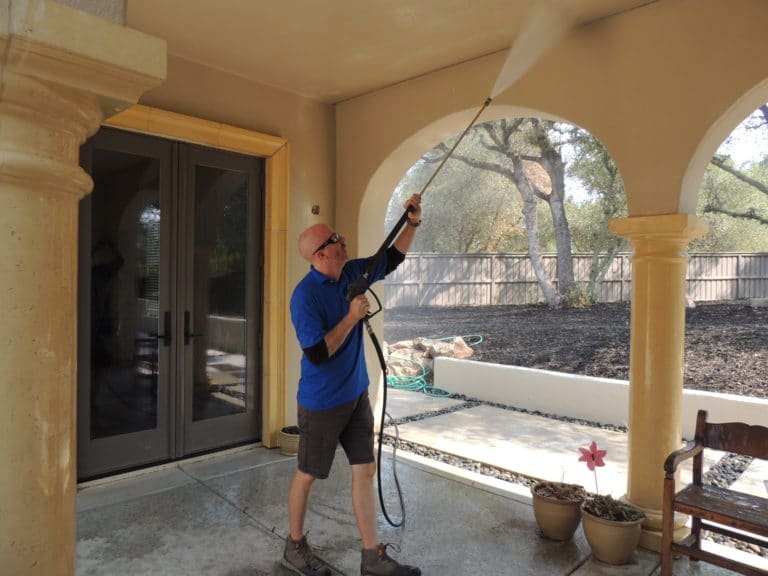 Sacramento, CA Professional Pressure Washing
When people think of California and its state capital, Sacramento, they likely imagine it to be as crowded as Los Angeles. However, Sacramento provides the ideal balance between the metropolitan and the lack of overcrowding. One of the more affordable cities in the state, Sacramento is gorgeous and safe and has exceptional school and job opportunities. For those who enjoy the outdoors, there's no shortage of boating, hiking, and camping opportunities, while those who prefer city activities can head to the many shops and restaurants. Residents of Sacramento enjoy all the benefits of a big city while having a more laid-back lifestyle.
Though Sacramento is lovely, especially with all the trees in the area, it's easy for your property to get dirty because of said trees. It's easy for leaves and debris to build up on your property, which can make it stick out from the rest of the neighborhood in a negative way. Sierra Vista Maintenance's professional pressure washing services will lessen your maintenance and enhance the appearance of your property in no time at all. There's no question that the people of Sacramento can benefit from our high quality services.
Why Choose Sierra Vista Maintenance?
In a place like Sacramento, there's no shortage of cleaning companies for you to choose from to come out and do a pressure washing for you. Sierra Vista Maintenance is among the best in the Greater Sacramento area. With over a decade of service under our belt, when you hire us, you can rest assured that we're not just talk. We have the experience, training, and equipment to back our words up. If it's time to get your home pressure washed, contact us! We promise you'll be amazed at what professional services can do for your home.