Solar Panel Cleaning Services In Alder Creek, CA
Solar panels are an easy part of your home to overlook. Many homeowners assume that there's no need to schedule solar panel cleaning because the rain will clean them for them. However, just like you need to clean your car more when it's rainy, so too do you need to clean your solar panels. This is because the rain will leave a film of dirt on your solar panels which will minimize the amount of light that gets into your solar panels and decrease their efficiency. Plus, that dirt that can accumulate on your solar panels will bring down the curb appeal of your home, through making them look grimy. In such a lovely area as Alder Creek, CA, that's the last thing that you want. Sierra Vista Maintenance provides professional solar panel cleaning services to increase the efficiency and aesthetic appeal of your home.
Get More Out Of Your Solar Panels
Contrary to popular belief, solar panels need regular cleaning in order to maintain their efficiency. Rainwater won't do that for you. When dust and fallen leaves and twigs, and the film of dirt from rainwater, accumulate on your solar panels, this decreases their energy output. The Solar Energy Power Association states that dirty solar panels can lose as much as 20% of their energy output, and the National Renewable Energy Laboratory states that it can be even more than that. Solar panels are an investment, and you want to protect that and ensure that they're doing their job properly. Ensuring that you maintain clean solar panels will help assure that you are generating more power from your solar panels by helping the maximum amount of light to hit the panels.
In an area like Alder Creek that's surrounded by trees, solar panels get dirtier faster. It can be tempting to try to clean your solar panels yourself, but this can be dangerous, and with the wrong products and equipment, there's not only risk of injury, but you could end up leaving streaks all over your solar panels. Hiring professionals to come out and do your solar panel cleaning will maximize their efficiency and ensure a streak-free, safe job that will leave your home sparkling.
Let Us Help You Increase Your Curb Appeal
Though we're very proud of the quality of our solar panel cleaning services, that's not all the experts at Sierra Vista Maintenance can do for you. We want to help your home glisten and glimmer from cleanliness from the roof down. We offer a wide range of cleaning services for the exterior of your home, such as:
Window cleaning

Roof cleaning

Dryer vent cleaning

Solar panel cleaning

Driveway cleaning

Patio cleaning

Gutter cleaning

Pressure washing 
There's no need to take on the dirty work of maintaining your home yourself. Hiring professionals to do it for you will increase the longevity and efficiency of your property, increase your curb appeal, and promise quality services.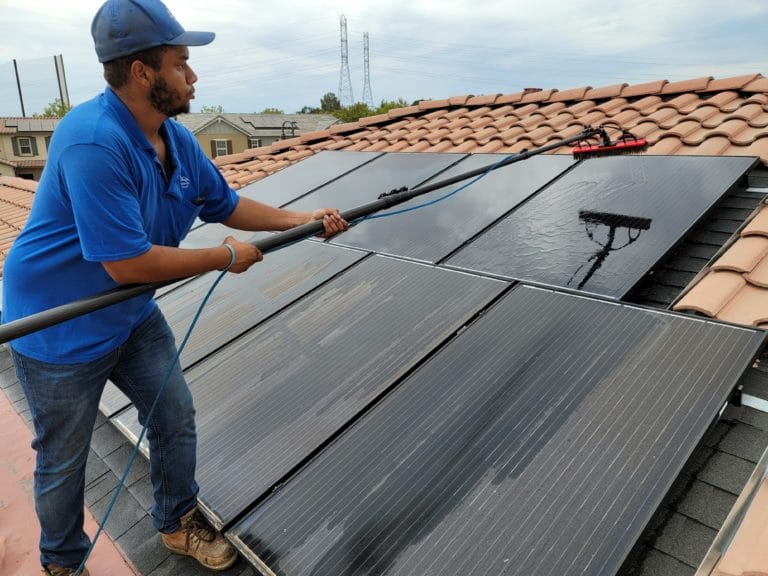 Alder Creek, CA Professional Solar Panel Cleaning
Living in Alder Creek, CA allows you to have both a rural atmosphere with close proximity to the Redwoods while also having easy access to downtown areas and commercial businesses. While some places can look the same, Alder Creek is known for clean and well maintained its medium to large sized homes and neighborhoods are. In this affluent area, your home will stick out like a sore thumb if you don't maintain it. Plus, with all of the trees, this means it's easy for debris like fallen leaves and broken off twigs to build up on your solar panels, so they get dirtier faster, decreasing their efficiency and lifespan.
Sierra Vista Maintenance offers professional solar panel cleaning services for all Alder Creek, CA homes, so that they will perform with maximum efficiency and improve the aesthetic appeal of your home. Rainwater won't cut it. Don't put yourself in danger trying to clean your solar panels yourself. The trained experts at Sierra Vista Maintenance will ensure streak-free cleaning of your solar panels so that you can reap the benefits they provide you and rest easy knowing that they will last longer and look better.
Why Choose Sierra Vista Maintenance?
With all the solar panel cleaning companies around, why select Sierra Vista Maintenance to clean your solar panels? Our professionals know how important it is for the people of Alder Creek to have clean, fresh properties. You don't want to be the dirty home that brings down the value of the entire neighborhood, and in such a beautiful setting, you want your home to be just as stunning. Sierra Vista Maintenance has been providing Alder Creek and the surrounding areas with exceptional cleaning services for over ten years. We use high quality equipment and products so that your property isn't damaged, and we require all of our technicians to undergo extensive training.
When you work with us, you'll know you're receiving top notch services. We know that although the Redwoods are stunning, they can also get your solar panels dirtier faster. We care about preserving the quality and efficiency of your solar panels, so when it's time to have them cleaned, don't hesitate to give us a call!