Solar Panel Cleaning Services In Arden-Arcade, CA
When people have solar panels installed, the idea is that they will help them to save money on their energy bills and power costs. But did you know that dirty solar panels can actually end up costing you money? Regular solar panel cleaning is essential in order to ensure that your solar panels stay efficient and last longer. When you choose Sierra Vista Maintenance for your solar panel cleaning, you can rest assured that your solar panels will be left sparkling clean, improving the aesthetic appeal of your home and helping them to produce as much energy as possible, saving you money, as they should.
Rainwater Won't Cut It
It's a common misconception that rain will do all the solar panel cleaning for you. But when cars are left out in the rain, we take them to the wash to clean off all of the grime and film of dirt that the rainwater can leave behind. Solar panels are no different. Plus, bird droppings, fallen leaves, and other debris can accumulate on your solar panels, which cause them to take in less light, ergo resulting in higher energy bills for you since your solar panels aren't able to function as they should. Not only can rain leave behind a film of dirt, but it can't clean off bird dropping or debris properly. Hiring a professional to come out and do your solar panel cleaning will keep them clean and efficient.
You may wonder why you should hire a professional for solar panel cleaning when it seems like a fairly straightforward job. Solar panel cleaning should be left to the professionals because it can be dangerous with trying to balance on ladders and your roof, and because you can end up leaving streaks and scratches all over your solar panels if you don't use the right equipment to clean them. The trained experts at Sierra Vista Maintenance have the professional knowledge and equipment to ensure a streak-free cleaning job that won't damage your solar panels, but rather increase their durability. Our team knows how to do solar panel cleaning safely and effectively, to ensure you benefit from your investment.
Quality Services You Can Rely On
When you hire Sierra Vista Maintenance for your solar panel cleaning, you can rest assured that your solar panels are in expert hands and will be cleaned properly and with care. In addition to our high quality solar panel cleaning services, Sierra Vista Maintenance offers a wide range of other services to clean your home from the roof down. Whether you need roof cleaning, gutter cleaning, dryer vent cleaning, patio cleaning, driveway cleaning, pressure washing, or window cleaning, we can help you not only with our high quality work, but with our friendly customer service. Our technicians are eager to help you freshen up your Arden-Arcade home.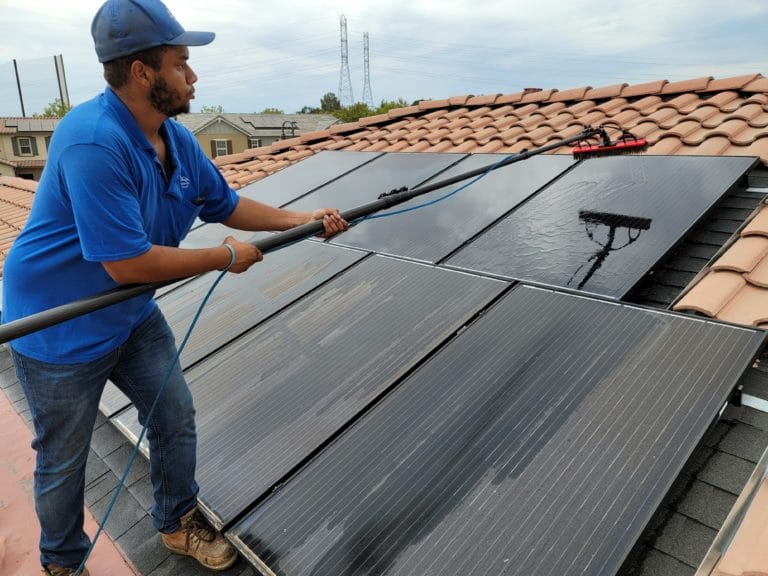 Arden-Arcade, CA Professional Solar Panel Cleaning
Arden-Arcade is a small, suburban community outside of the Sacramento city limits. With its proximity to downtown and Sacramento State, there's plenty of nightlife and activities to choose from. With all of the homes in the area, ranging from single family homes to apartment complexes, it's also a great place to settle down with its affordability and easily accessible amenities. Arden-Arcade has an above-average population density, which increases the frequency at which your solar panels will need to be cleaned. Dust and dirt accumulate faster in more densely populated areas, which decreases the efficiency of your solar panels. Sierra Vista Maintenance will ensure that your solar panels sparkle, so that they work as they should, improve the curb appeal of your home, and last longer.
Why Choose Sierra Vista Maintenance?
Sierra Vista Maintenance has been serving the people of Arden-Arcade and the Greater Sacramento area for over ten years with our expert services. Maintaining clean solar panels is essential to see their investment pay off in your energy bills and to keep your home looking fresh. Our professional team has the training and equipment in order to ensure that your solar panel cleaning is done safely and that your solar panels aren't damaged in the process. We take pride in the quality of our work and of our customer service. Give us a call to schedule your solar panel cleaning so that your solar panels can get back to maximum efficiency!