Solar Panel Cleaning Services In Arden-Arcade, CA
The purpose of residential solar panels is to help homeowners save money on their energy bills and power costs. But did you know that dirty solar panels can cost you more money? Regular solar panel cleaning is essential to ensure that the panels stay efficient and last longer. Working with Sierra Vista Maintenance for your solar panel cleaning gives you the assurance that your solar panels are clean and produce as much energy as possible.
Rainwater Won't Cut It
It's a common misconception that rain is enough for sufficient solar panel cleaning. Similar to cars left out in the rain, hard water spots start to appear. Rainwater also comes with dirt and attracts dirt to surfaces. Other debris such as bird droppings and fallen leaves can accumulate on your solar panels, which causes them to take in less light, ergo resulting in higher energy bills. Not only can rain leave behind a film of dirt but it does not properly remove built-up bird droppings and dirt that block your solar panels from receiving the correct light. Hiring a professional to come out and do your solar panel cleaning will keep them clean and efficient.
You may wonder why you should hire a professional for solar panel cleaning when it seems like a fairly straightforward job. Having professional solar panel cleaning keeps you from having to climb onto your roof or balance ladders. Cleaning panels yourself can leave streaks and scratches that damage your panels. The trained experts at Sierra Vista Maintenance have the professional knowledge and equipment to ensure a streak-free cleaning job that won't damage your solar panels, but rather increase their durability. Our team performs each job safely and efficiently to ensure your benefit from your investment.
Quality Services You Can Rely On
When you hire Sierra Vista Maintenance for your solar panel cleaning, you can rest assured that your solar panels are in expert hands and are cleaned with care. In addition to our high-quality solar panel cleaning services, Sierra Vista Maintenance offers a wide range of other services to clean your home from the roof down. Whether you need roof cleaning, gutter cleaning, dryer vent cleaning, patio cleaning, driveway cleaning, pressure washing, or window cleaning, we provide quality cleaning combined with friendly customer service. Our technicians are eager to help you freshen up your Arden-Arcade home.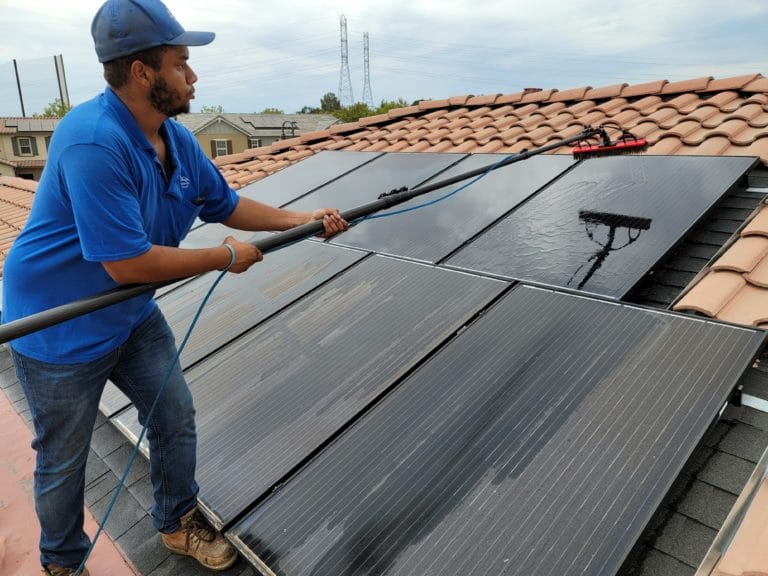 Arden-Arcade, CA Professional Solar Panel Cleaning
Arden-Arcade is a small, suburban community outside of the Sacramento city limits. With its proximity to downtown and Sacramento State, there's plenty of nightlife and activities to choose from. With all the homes in the area, ranging from single-family homes to apartment complexes, it's also a great place to settle down with its affordability and easily accessible amenities. Arden-Arcade has an above-average population density, increasing the frequency at which your solar panels need to be cleaned. Dust and dirt accumulate faster in more densely populated areas, which decreases the efficiency of your solar panels. Sierra Vista Maintenance will ensure that your solar panels sparkle, so they work as they should, improve your home's curb appeal, and last longer.
Why Choose Sierra Vista Maintenance?
Sierra Vista Maintenance has been serving the people of Arden-Arcade and the Greater Sacramento area for over ten years with our expert services. Maintaining clean solar panels is essential to experience the payoff in your energy bills and to keep your home looking fresh. Our professional team has the training and equipment to ensure that your solar panels aren't damaged during cleaning. We take pride in the quality of our work and our customer service. Contact us to schedule your solar panel cleaning so that your solar panels can get back to maximum efficiency!