Solar Panel Cleaning Services
Electric bills seem to become more and more expensive each year. While it is not always apparent, electricity can become costly over time. But, there is not a whole lot that residents can do to avoid these bills, as everyone needs access to electricity to heat their homes and power their appliances and equipment. While dependence on electricity will continue to be a basic need, there may be alternatives to relying on electric companies. If you are tired of exorbitant electricity bills, you have likely thought about switching to solar energy. If you have solar panels on your roof or are considering installing solar power, make sure that you also have a plan for solar panel maintenance.
Solar Energy: A Fantastic Electricity Alternative
Solar panels are an outstanding alternative to regular electricity options. While there is often a high upfront cost, solar panels are an investment that will last for many years and pay for itself over time. They also allow you to avoid electricity bills, which is a significant financial blessing. Not to mention, solar panels are also environmentally sustainable as they do not require the use of fossil fuels. Solar panels are most effective when used in areas that have access to consistent sunlight. Living in California, solar panels are a smart option for residents.
If you are investing in solar energy or considering buying solar panels, you should consider how you will care for the panels. As previously mentioned, solar panels are expensive equipment. They must be properly maintained to get the best useful life. We at Sierra Vista Maintenance provide solar panel cleaning services to homeowners to help them keep their solar panels in good condition for as long as possible.
Protect Your Solar Panels
We at Sierra Vista Maintenance can help you care for your solar system. We recommend that you get your solar panels cleaned once every six months to ensure solar panels receive as much light as possible. A buildup of dirt and debris blocks parts of the solar panel. Our experienced technicians will make certain that your solar panels are well cared for. 
Not only do we provide top-notch solar panel cleaning services, but we also provide homeowners with services to help them keep their homes looking beautiful.
Some of the services we offer include:
Window cleaning

Roof cleaning

Pressure washing

Gutter cleaning

Dryer vent cleaning

Patio and driveway cleaning

And more!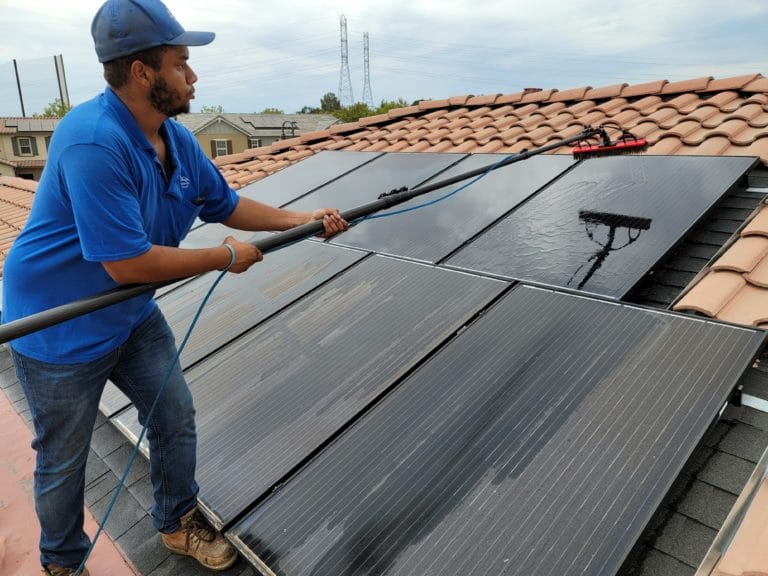 Auburn, CA Professional Solar Panel Cleaning
Auburn, CA, is a city located in a beautiful part of Placer County, California. Auburn is known for being a safe place to live for families and single individuals alike. It offers fun activities for those who enjoy the outdoors including several fantastic parks, many hiking trails, and a river nearby for fishing. Auburn has a rich history and offers many interesting spots to visit. Auburn is part of the Sacramento metropolitan area, offering many economic opportunities.
Auburn, CA, sees many sunny days and the cost of living is higher than the national average. Due to these factors, many residents of Auburn turn to solar power to help them save money on electricity. Residents may not realize that solar panels need occasional maintenance to work properly. If you are living in Auburn, California, or the surrounding area and are looking for options to help you get your solar panels cleaned, consider reaching out to us at Sierra Vista Maintenance.
Why Choose Sierra Vista Maintenance?
We at Sierra Vista Maintenance are passionate about helping our customers keep their homes looking pristine. We offer many different services to help protect, preserve, and maintain our customer's homes. We not only provide excellent service, but we offer expert information regarding caring for the exterior of your home. Our team is experienced and professional. We will quickly and efficiently service your needs. For more information, feel free to reach out to us at Sierra Vista Maintenance today.