Solar Panel Cleaning Services In Bullard, CA
When you install solar panels, the goal is to save money and be more environmentally friendly. They're an investment, but they pay off in keeping the surrounding air and water quality cleaner and safer, and in lowering your energy and power bills. Solar panels can do wonders in converting solar energy into electricity – when they're clean. A lot of people don't realize that solar panel cleaning is essential in order to keep them functioning as they should and assume that either solar panels don't need cleaning or that nature will take care of the cleaning for them through rain.
Solar panel cleaning is necessary to keep them effective and rain can actually make your solar panels dirty. The professionals at Sierra Vista Maintenance offer exceptional solar panel cleaning services to save you money. We're much better at cleaning than rain.
Dirty Solar Panels Increase Your Energy Bills
In order for your solar panels to function properly, they need to be clean, for optimal light conversion to power. Dust, debris, the film of dirt rainwater leaves behind, bird droppings – all of these lower the efficiency of your solar panels. The goal of solar panels is to save you money on your energy bills, but if they aren't cleaned regularly, you'll likely notice your energy bills start climbing. It's important to schedule regular solar panel cleaning to increase the longevity and efficiency of your solar panels.
Some homeowners may assume solar panel cleaning is a DIY job, no need to hire a professional. However, solar panel cleaning can be dangerous in that you can fall off your ladder or your roof. Plus, it's very easy to damage solar panels and leave them covered in streaks if you don't use the right equipment. The professionals at Sierra Vista Maintenance have the quality products and equipment needed in order to leave your solar panels spotless, with no fear of scratches or other potential damages. We can do your solar panel cleaning safely and effectively, so you can go back to reaping their benefits without any work of your own.
Quality, Friendly Services You Can Rely On
Sierra Vista Maintenance takes a lot of pride in the quality and affordability of our services and in that we do it all with a friendly attitude. We care deeply about each and every one of our clients and leaving your property fresh and clean. That's why in addition to our high quality solar panel cleaning services, we also offer:
Window cleaning

Roof cleaning

Dryer vent cleaning

Driveway cleaning

Patio cleaning

Gutter cleaning

Pressure washing 

And more!
The exterior of your home can say a lot about you. At Sierra Vista Maintenance, we want to help your home say that you care about the maintenance of your property and that you put forth the effort to keep a clean, fresh home.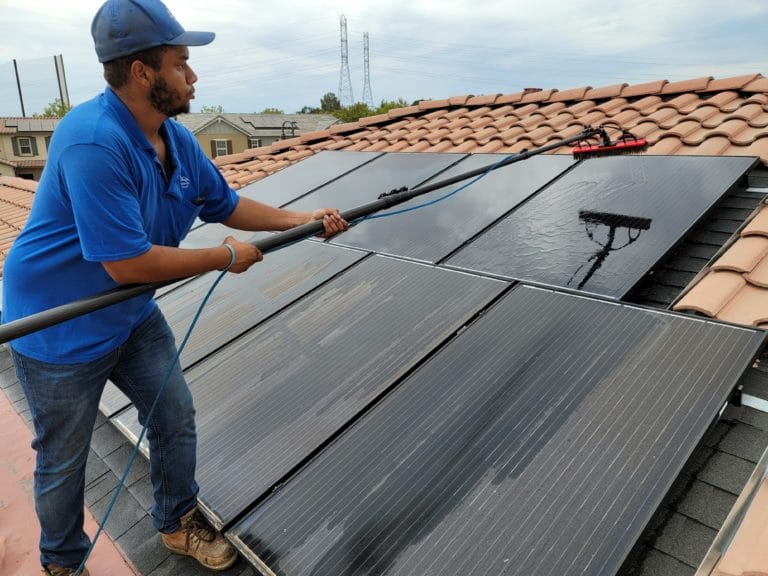 Bullard, CA Professional Solar Panel Cleaning
Bullard is a friendly, diverse neighborhood in the Fresno area which is known for how tight-knit its community is, the affordability of living there, and serene, beautiful homes. All the different kinds of homes give the people of Bullard options to choose the best style suited to their needs, and with how Bullard is surrounded by downtown, people of Bullard can have peace and a nightlife, parks and trails and easy amenities and shopping opportunities.
The homes in Bullard can very easily get dirty though, and in such a lovely neighborhood, you don't want your dirty solar panels to make your home stick out from the rest – and not in a good way. The professionals at Sierra Vista Maintenance are committed to giving your home a top to bottom makeover in cleaning off all the dirt and debris that can accumulate on your home from the roof down, leaving it sparkling.
Why Choose Sierra Vista Maintenance?
Why should you go with Sierra Vista Maintenance for your solar panel cleaning over the other solar panel cleaning companies in the area? What sets us apart from our competitors? Sierra Vista Maintenance has over ten years of experience serving the people of Bullard and the Greater Sacramento area. We know that quality services are essential to the appearance and maintenance of your home, which is why we ensure that all of our technicians are trained and licensed and that we use professional products and equipment to leave the exterior of your home fresh. Contact us today to schedule your solar panel cleaning service! Sierra Vista Maintenance is more than happy to help.