Solar Panel Cleaning Services In Citrus Heights, CA
A car that is serviced regularly runs better than one that receives little to no maintenance. The same can be said for your solar panels. While it's assumed that solar panels don't need cleaning, this simply isn't true. The fact that your solar panels are at an upward angle makes them more prone to dirt buildup and bird droppings, which don't simply wash away when it rains. If you don't wash your solar panels, you'll likely notice less conversion of energy because of the build-up. Here at Sierra Vista Maintenance, we offer professional solar panel cleaning to optimize their efficiency, without any streaks.
Say Goodbye To Higher Energy Bills
Dirty solar panels can't do their job, so if your energy bills are starting to climb, you may want to assess the cleanliness of your panels. The buildup of debris, dirt, and bird droppings all lower your solar panels' efficiency. To maximize performance, regular cleanings are a must. Investing in solar panels requires them to work properly to see the most ROI.
DIY solar panel cleaning may seem like a great idea, but it's quite dangerous to try to clean your solar panels yourself. Plus, without the proper equipment, you can leave scratches and streaks all over your solar panels. Professionals like Sierra Vista Maintenance have the necessary products and equipment to clean your solar panels safely and leave them spotless, increasing the durability, efficiency, and aesthetic appeal of your home.
Quality Work + Friendly Service = Exceptional Results
The trained, licensed experts at Sierra Vista Maintenance don't just do the job you hire us for. We know how vital quality is, as well as friendly service. Asking someone else to clean the exterior of your home is an extension of trust, and we respect that. We know that when you choose us to clean your home, you're also entrusting us with ensuring we leave it clean and fresh and able to last longer. We care deeply about the quality of our services and can help you with roof cleaning, gutter cleaning, patio cleaning, pressure washing, window cleaning, and more.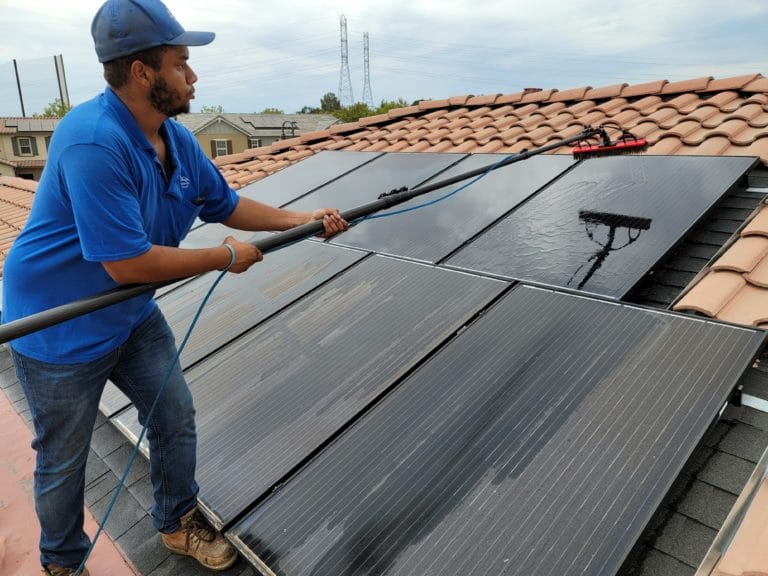 Citrus Heights, CA Professional Solar Panel Cleaning
Citrus Heights is one of the most diverse communities within the Sacramento area that also features diverse housing options. With a wide range of different kinds of residential and commercial buildings, expert knowledge is required to properly clean the different properties. The people of Citrus Heights enjoy easy access to shopping, entertainment, amenities, and more. Citrus Heights is very safe, but with how dry the summers are and how mild the winters are, this means it's very easy for your solar panels to get dirty.
In an area like Citrus Heights, you want a professional that is familiar with cleaning homes like yours. Luckily, Sierra Vista Maintenance offers both residential and commercial solar panel cleaning services. We can bring your solar panels back to maximum efficiency, no matter what kind of building you have. When it's time to schedule your solar panel cleaning, the licensed experts at Sierra Vista Maintenance are here to help!
Why Choose Sierra Vista Maintenance?
When you live somewhere with opportunities that Citrus Heights offers, you want to know what sets our solar panel cleaning company apart from the rest. Choosing Sierra Vista Maintenance for your solar panel cleaning job provides employees that know the area and are familiar with the impact solar panels have on your property. Sierra Vista Maintenance ensures that all our technicians undergo extensive training and use professional products and equipment for optimal results. We have over ten years of experience, so we know how important it is to not only provide high-quality work, but impeccable customer service and to put safety first. We'll bring your solar panels back to life, not just 'get the job done.' Contact us today to schedule your solar panel cleaning!