REQUEST YOUR FREE ESTIMATE BY FILLING THE FORM BELOW
Solar Panel Cleaning Services In El Dorado Hills, CA
The idea that you don't need to clean your solar panels because rain will do it for you is a myth. Solar panels require regular cleaning in order to properly do their job. Solar panels work by converting light into electricity for your home and many homeowners have them installed both to be more environmentally friendly and to save money on their energy bills. With how exposed your solar panels are to the elements, it's easy for them to get dirty and wear out, which makes it so that you'll likely see your energy bills going up instead of down. Sierra Vista Maintenance offers high quality solar panel cleaning to maximize the efficiency of your El Dorado Hills home's solar panels and ensure that your home's curb appeal isn't affected by dirty solar panels.
Improve ROI Time
Solar panels are an investment that you expect to pay themselves off over time with the work they do to increase the energy efficiency of your home. If they're covered with dust and leaves and debris and bird droppings, this lessens their efficiency, as well as lowering the aesthetic appeal of your home. No one likes dirty solar panels. They're not pleasant to look at, they're not pleasant for their decreased ability to save you money, and if you don't have your solar panels regularly cleaned, you could lose your warranty, since regular solar panel cleaning is part of their maintenance.
The cleaner your solar panels, the sooner you'll see that return on your investment. How frequently your solar panels need to be cleaned will depend on what they're exposed to – in El Dorado Hills, that means trees and rain and the like. While it's commonly believed that rain will clean your solar panels, the truth is that rain leaves behind a film of dirt that necessitates cleaning, rather than taking care of it. Plus, rain can't do much for bird droppings. Sierra Vista Maintenance provides exceptional solar panel cleaning services to ensure your solar panels operate as smoothly and easily as possible.
Let Us Take Care Of The Dirty Work
The best way to clean your solar panels is to hire a professional to come out and do it for you. Cleaning solar panels can be dangerous if you're not a professional with professional equipment and products. You don't want to risk falling off of a ladder or your roof or to accidentally damage your solar panels with household cleaning products that aren't good for solar panels. Sierra Vista Maintenance uses specialized cleaners to leave your solar panels streak-free, sparkling clean. 
In addition to our high quality solar panel cleaning services, we can help you with other parts of your property too! We know how difficult and time consuming it can be to try to clean the exterior of your home. Let us take care of it for you. With our professional services, your home will be good as new in no time.
Some of the services we offer include:
Window cleaning

Roof cleaning

Pressure washing

Gutter cleaning

Dryer vent cleaning

Patio and driveway cleaning

And more!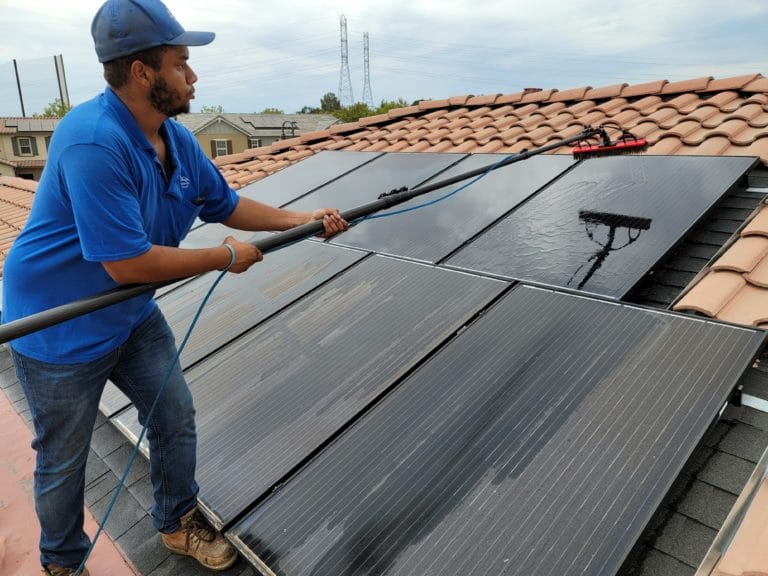 El Dorado Hills, CA Professional Solar Panel Cleaning
El Dorado Hills is known for being a high cost/high reward town to live in. While El Dorado Hills remains mostly rural in spite of its growth over the years, there's no shortage of amenities or things to do here. Residents adore their close proximity to Folsom Lake, as well as a town center that has shopping, food, and movies galore. Many families choose to settle down in El Dorado Hills because of how incredibly safe the community is here and the high quality schools in the area.
The people of El Dorado Hills place a lot of importance on being environmentally friendly, so you'll want to work with a company like Sierra Vista Maintenance that only uses environmentally-friendly products in order to clean your solar panels with. In a place like El Dorado Hills where the winters are cold, the summers hot, and it's fairly rainy, you'll want to ensure that you get regular solar panel cleaning in order to keep the dust, grime, bird droppings, and debris from impacting their efficiency.
Why Choose Sierra Vista Maintenance?
Your home is one of the biggest investments you'll ever make, so you want to ensure that the people you entrust the cleaning of your solar panels too will be able to get the job done right the first time. Sierra Vista Maintenance will do this for you. We prioritize customer satisfaction, so we are very transparent about our process and detail-oriented in our work. We ensure that all of our specialists are highly trained and that our equipment is top of the line. Are your solar panels not working as they should? Are they bringing down the appearance of your home? Contact us today to schedule your solar panel cleaning!