Solar Panel Cleaning Services In Granite Bay, CA
Many people don't realize solar panel cleaning is part of their maintenance. Solar panels are exposed to the elements, which means it's common for them to get dirty. A dirty solar panel can't convert as much energy into electricity because the amount of light that can hit it is reduced. When there's a layer of dust on your solar panels or other such factors like bird droppings and leaves, this lessens how much light they can convert into energy. Granite Bay gets plenty of sunlight, so why not maximize your solar panels' efficiency with regular cleanings from Sierra Vista Maintenance that will allow them to shine?
Maximize Your Energy Efficiency
Even in clean and pretty areas like Granite Bay, it's easy for dirt to build up if you don't participate in regular cleanings. Over time, you may notice your energy bills start to climb as a result of dirt buildup. Not only does solar panel cleaning maximize your solar panels' efficiency by leaving them clear and able to take in as much light as possible, but it also lessens the likelihood of them being scratched and damaged by grime.
Since solar panels can get dirty gradually, many people don't notice that they need cleaning until they see a drop in their energy bills. Those around you may take notice though as dirty solar panels make your home seem aged and uncared for. Routine solar panel cleaning will ensure that your solar panels look and perform their best for years to come. Sierra Vista Maintenance has the specialized tools and products needed to clean your solar panels safely, without damaging them or leaving them streaky.
Top Quality Services That Exceed Expectations
Your solar panels are delicate, so you want to ensure that you're entrusting the cleaning to professionals who pay attention to detail and avoid scratches. You'll be pleased to learn that not only do our products ensure sparkling clean solar panels, but they are safe for the environment. Sierra Vista Maintenance believes in high-quality work, being mindful of the environment, and prioritizing client satisfaction. Aspects that all can work in tandem – and our testimonials prove it!
In addition to our solar panel cleaning, we can offer services for the exterior of your property from the roof down. Whether you need window cleaning, roof cleaning, pressure washing, and more, our expertly trained professionals are here to help. Exceptional cleaning services will enhance the beauty of your home and ensure it stays in good condition for as long as possible.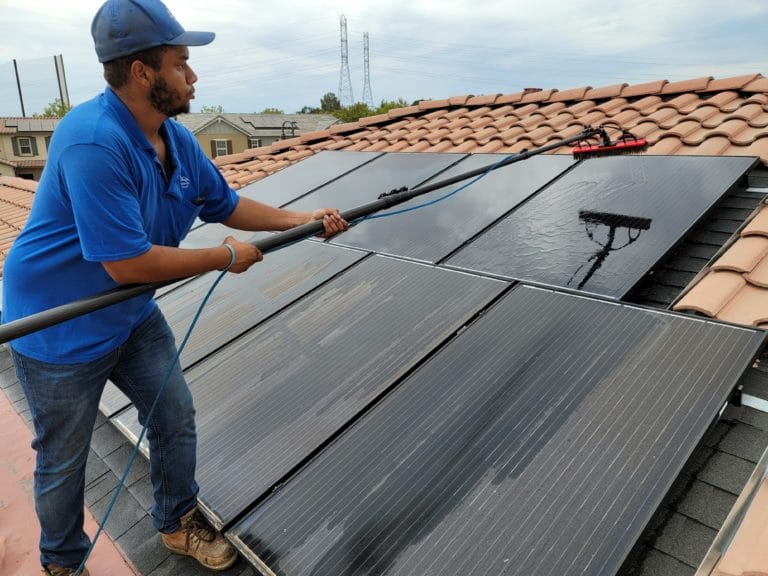 Granite Bay, CA Professional Solar Panel Cleaning
Granite Bay is one of the most affluent communities in the Greater Sacramento area with stunning lakeside estates, an exceptional school district, and no shortage of activities. With equestrian centers, tennis courts, and golf clubs, there's something for everyone in Granite Bay. The residents of Granite Bay enjoy many delicious restaurants, shopping opportunities galore, and beautiful landscapes. This safe, picturesque suburb has homes for everyone, from luxury estates, and gated communities to more traditional neighborhoods and rural homes.
In such a lovely, highly sought-after location, image is everything. You don't want your solar panels to destroy the cleanliness of your home and make your home stick out like a sore thumb. Sierra Vista Maintenance offers professional solar panel cleaning that will ensure your home sparkles. With our top-tier services, you can rest assured that your solar panels won't bring down the aesthetics of the rest of your property.
Why Choose Sierra Vista Maintenance?
When you work with Sierra Vista Maintenance for your solar panel cleaning, you're working with a company that cares as much about the quality of our work as you do. Solar panels are delicate, but we have the expertise to make them shine without risk of damage or streaks or putting ourselves in danger. We have over ten years of experience in serving the people of the Greater Sacramento area, so believe us, we know the importance of client satisfaction and high-quality work. We want to ensure that our work doesn't just meet your expectations – it exceeds them. Contact us today to schedule your solar panel cleaning and let's get them back to maximum efficiency!