Solar Panel Cleaning Services
Summer is approaching, which leads to more people spending time outside. In California, this is especially true as summertime brings clear skies and warm temperatures. Many Californians take full advantage of the clear skies and get solar panels for their homes. Solar panels are a great way to save money on power and be more environmentally conscious. Once you purchase solar panels, you will need to protect them.
Protect Your Solar Panels With Solar Panel Cleaning Services
Solar panel cleaning services help keep your solar panels working properly. Solar panels require direct sunlight to create energy to power your home. Solar panels are typically placed on the roof of your home away from any shade to get as much sunlight as possible. However, while being up on the roof or in a spot that is open to the elements is important for solar panels to be able to collect sunlight, it can also mean that the panels get dust, dirt, and other debris on them.
It is important to remove any dirt, dust, debris, animal droppings, and water stains from your solar panels regularly. Cleaning your solar panels ensures that they can work to their full capacity. However, because solar panels are sensitive and expensive equipment, having your panels cleaned by professionals prevents damage. Reach out to us at Sierra Vista Maintenance for excellent professional solar panel cleaning services.
We Provide Other Exterior Cleaning Services
Not only do we at Sierra Vista Maintenance provide exceptional solar panel cleaning services, but we also offer several other services that are bound to help improve the look of the exterior of your home. We provide exterior cleaning services for both residential and commercial properties. With our professional services, your home will look appealing and be protected from harsh natural elements.
Some of the other services we offer include:
Window cleaning

Roof cleaning

Pressure washing

Gutter cleaning

Dryer vent cleaning

Patio and driveway cleaning

And more!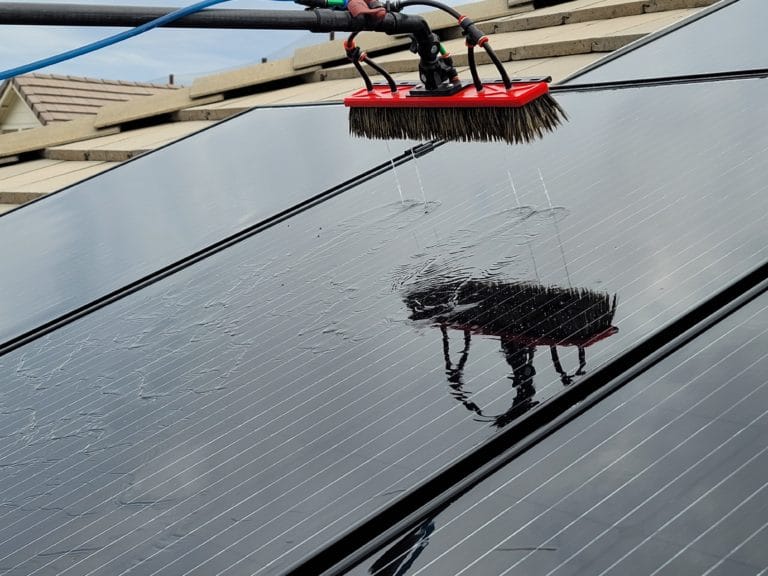 Gold River, CA Professional Solar Panel Cleaning
Gold River, CA is a residential community located just under half an hour from Sacramento, California's capital city. Gold River is known for being a very safe and comfortable place for people to live. There are a wide variety of different types of homes that families, retirees, and young professionals can enjoy. The area is unique for being primarily made up of neighborhoods. However, the proximity to Sacramento still makes it a great place to live if you are looking for employment opportunities.
Homeowners that reside in Gold River, CA, are likely used to the hot temperatures and constant sun that the summer brings. You likely enjoy the clear skies that tend to grace the Gold River area. Due to the sun exposure, Gold River is a great place to live if you want to use solar panels. Solar panels will only benefit your home and save you money if you prevent them from having build-up. Proper cleaning removes packed dirt and bird droppings and improves the look of your home. If you require solar panel cleaning services, consider reaching out to us at Sierra Vista Maintenance.
Why Choose Sierra Vista Maintenance?
We at Sierra Vista Maintenance provide excellent services that help clean and protect our clients' homes. If you are looking for a quick, efficient and convenient way to clean your Gold River home, look no further than us at Sierra Vista Maintenance. Our experienced and knowledgeable maintenance team will provide you with professional assistance and can answer any questions that you may have about caring for your solar panels. If you have any more questions, feel free to reach out to us today.