REQUEST YOUR FREE ESTIMATE BY FILLING THE FORM BELOW
Solar Panel Cleaning Services
California is one of those areas that is known for having beautiful weather, lots of sunshine, and mostly clear skies for much of the year. The wonderful weather and all sorts of economic opportunities tend to draw people to California. However, due to the large number of people that live in California, it can be rather expensive to live there. It is important to save as much money as possible, and that is why Californians tend to take advantage of the sun and buy solar panels. However, in order to save as much money as possible, it is important to maintain and protect your solar panels.
High-Quality Solar Panel Cleaning Services
When a person gets solar panels, it is typically an investment. Solar panels have large upfront costs, and the reason why people will buy them is that they can help people save money over time on power bills. However, solar panels need a lot of direct sunlight in order to work properly. That is why solar panels are often placed on the roof of a home. Because the solar panels are up on the roof, they often get forgotten. In order to keep your solar panels working properly and save yourself as much money as possible, it is important to keep your panels clean.
Professional solar panel cleaning services are the perfect solution for maintaining your solar panels. If you are able to maintain your solar panels, they will work more efficiently. Also because solar panels are expensive, it is important to make sure that you are very careful when you clean them. That is why a professional solar panel cleaning service can be useful.
Quick And Convenient Cleaning Services
Not only do we at Sierra Vista Maintenance provide excellent solar panel cleaning services, but we offer the best of the best when it comes to exterior cleaning services. If you are looking for some quick and convenient cleaning services for the exterior of your home, we at Sierra Vista Maintenance have got you covered.
Some of the other services we offer include:
Window cleaning

Roof cleaning

Pressure washing

Gutter cleaning

Dryer vent cleaning

Patio and driveway cleaning

And more!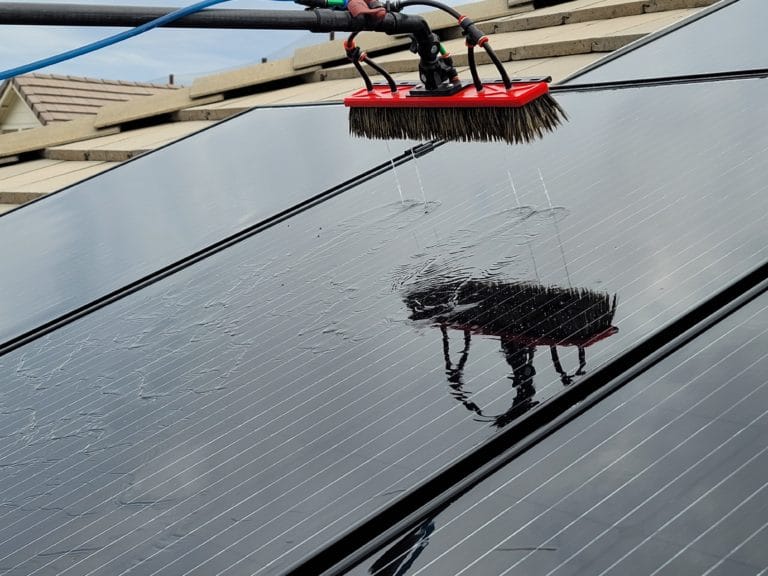 Loomis, CA Professional Solar Panel Cleaning
Loomis, CA is a city that is located in Placer County, California. It is known for its proximity to many wonderful outdoor parks. These parks provide individuals and families with all sorts of great activities to choose from including hiking, biking, and fishing. There are also several great museums that are located in Loomis. Loomis is a great place to live if you would like to raise a family. It is a very quiet and relaxed place and provides a safe space to live. The town is very quaint and has a beautiful rural charm.
Loomis has a relatively temperate climate and is known for having mostly clear skies throughout the year. Due to the amount of direct sunlight that the area gets, Loomis is a great place to live if you are wanting to invest in solar panels. Solar panels provide all sorts of great benefits including more control over your energy and decreased energy bills. However, it is difficult to gain these benefits without properly cleaned solar panels. If you are living in Loomis, CA, reach out to us at Sierra Vista Maintenance for the very best solar panel cleaning services.
Why Choose Sierra Vista Maintenance?
We at Sierra Vista Maintenance are proud to provide high-quality maintenance and cleaning services to our clients. We offer all sorts of different services and options for all your exterior cleaning needs. We are professionals and are experienced with cleaning homes and solar panels in California. If you have any questions or would like to request an estimate, feel free to reach out to us today.