Window Cleaning in Cameron Park, CA
Windows have many purposes and keeping them clean provides many benefits. However, windows are some of the most difficult places to clean in a home or building. They can be very hard to reach and clean, depending upon what is on them. With the surplus of trees in Cameron Park, it is no surprise that leaves and other debris fall on homes and buildings in the area, with the addition of dirt and pollen during the warmer months. This dirt and debris can become difficult to remove, so hiring a professional window cleaning company like Sierra Vista Maintenance can be beneficial for homeowners and businesses. We have technicians that are knowledgeable in the methods and equipment necessary for sufficient window cleaning, as well as for other cleaning needs for your property.
Window Washing When You Need It
Household chores can build up over time and very rarely is window cleaning at the top of the list. Other responsibilities, such as taking care of kids and pets, cleaning bathrooms and bedrooms, laundry, dishes, and more, are usually higher up on the list. However, regularly cleaning your windows can provide many benefits and allow you to see better outside when you are stuck indoors. Sierra Vista Maintenance offers the best window cleaning in Cameron Park.
Total High Quality Service
Window cleaning in this area can be especially beneficial since dry weather and seasonal pollen can cause dirt and dust to accumulate on the windows and make it difficult to see outdoors. Cleaning your windows can be a very time-consuming and physically demanding chore for most property owners. This is why hiring a professional window cleaner may be the best option for you. 
Professionals can safely reach heights that can be dangerous for property owners to reach on their own. Professionals also have the equipment and cleaners necessary to remove all substances from the windows, no matter what it is, without leaving streaks. Different windows require different methods and tools for cleaning them, so it's important to hire a company that has the knowledge and expertise to get the job done right the first time.
When you work with Sierra Vista Maintenance, you won't only be receiving the best window cleaning services; we also offer superior cleaning services for the entire exterior of your home. From patios to driveways, to the roof and gutters, solar panels, and decks; we can help with a variety of your cleaning needs. Our experts can even clean out your dryer vents to help prevent a house fire. Not only do we offer all of these high-quality services, but we do it with a friendly, caring attitude. Our technicians are eager to help you with whatever services you require.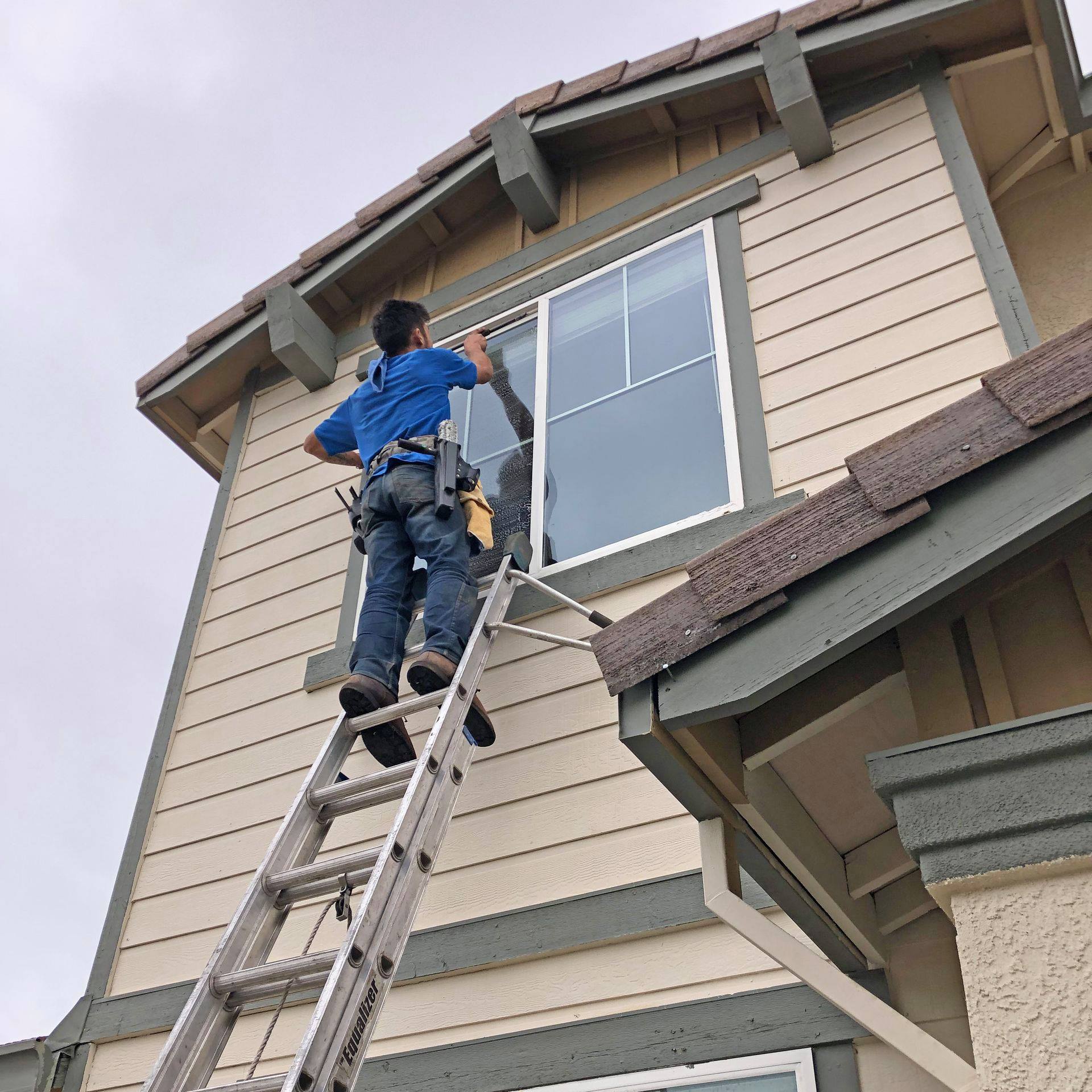 Cameron Park, CA Professional Window Cleaning
Cameron Park is a residential community with outdoor recreation places, golf courses, parks, lakes, and even an airport. This community has many houses, apartments, condos, ranches, and businesses that require cleaning services. Sierra Vista Maintenance provides excellent window cleaning in Cameron Park, giving each job the attention to detail it needs to make sure it is done right.
The sun shines bright in Cameron Park but if your windows are too dirty, the light and warmth won't make it inside your property. The dirt and dust on the windows can also lower your home or building's curb appeal. If your property has dirty windows, the window cleaning experts at Sierra Vista Maintenance can help bring new life to your property with sparkling clean windows.
Why Choose Sierra Vista Maintenance?
Sierra Vista Maintenance specializes in window cleaning for all kinds of properties and has been providing exceptional cleaning services for several years. Our technicians are efficient at their work and can reach all of your windows, no matter their size or location. Maintaining clean windows can not only help the overall appearance of your home or property but can also improve your energy costs by better regulating the temperature within your home. Give our professionals a call and get started on clearing your windows and property of dirt and debris today. Cleaner windows mean a cleaner home, so we would love to help you check "cleaning your windows" off of your chore list.