Window Cleaning Services In North Highlands, CA
Your windows are a vital part of your home. They regulate the temperature, illuminate the inside of your house while also brightening your view of the outside world, impact its curb appeal, and function as a form of protection and security for your home. Window cleaning is a chore that many homeowners overlook because it both may not seem as important as cleaning the rest of your home and because it can be difficult and even dangerous to try to clean your windows yourself. Sierra Vista Maintenance offers professional window cleaning services to all North Highlands homes to take care of the dirty work for you – and to make sure that your windows will continue to function as they should.
Why Does Window Cleaning Matter?
Even the highest quality windows will need repairs and replacement much faster than normal if you don't have them regularly cleaned. This is because window cleaning should be a routine service, the same as having your garage door maintained or your furniture dusted. It's easy to put it off or assume it's not as important because windows can be hard to clean properly. You don't want to leave your windows streaky or only be able to clean some of them because you can't reach the rest. Professional window cleaners like our team here at Sierra Vista Maintenance are experts at leaving your windows sparkling and reaching even the tops of those hard-to-reach areas, due to their professional equipment and training.
But why do regular window cleaning services matter? Aside from increasing the aesthetic appeal of your home, window cleanings matter because it's incredibly easy for dust, dirt, and grime to build up on your windows. Over time, this gets into the pores of the window's glass, weakening its structural integrity and making it less efficient. Weakened windows impact the security of your home, allowing for the elements and dirt to get in and affect your indoor air quality while increasing your risk of respiratory problems and even diseases. Regular window cleaning will ensure that your investment stays clean and secure for much longer than if cleaning the windows was overlooked.
Cleaning Is Cheaper Than Repairing
One of the easiest ways to help something last longer is to keep it in good condition. Our trained experts here at Sierra Vista Maintenance care deeply about protecting our customers' investments, which is why we offer high-quality services to all North Highlands homes. Though we are very proud of our window cleaning services, that's not all we can do for you. We know the importance of cleaning to stave off repairs and potential replacement. This is why we offer a wide range of services to keep the exterior of your home clean and fresh.
We can help you with:
Gutter cleaning

Patio cleaning

Driveway cleaning

Pressure washing

Roof cleaning

Solar panel cleaning

And much more!
With proper cleaning, you can keep your home in pristine condition for years to come – especially if you hire professionals for the job.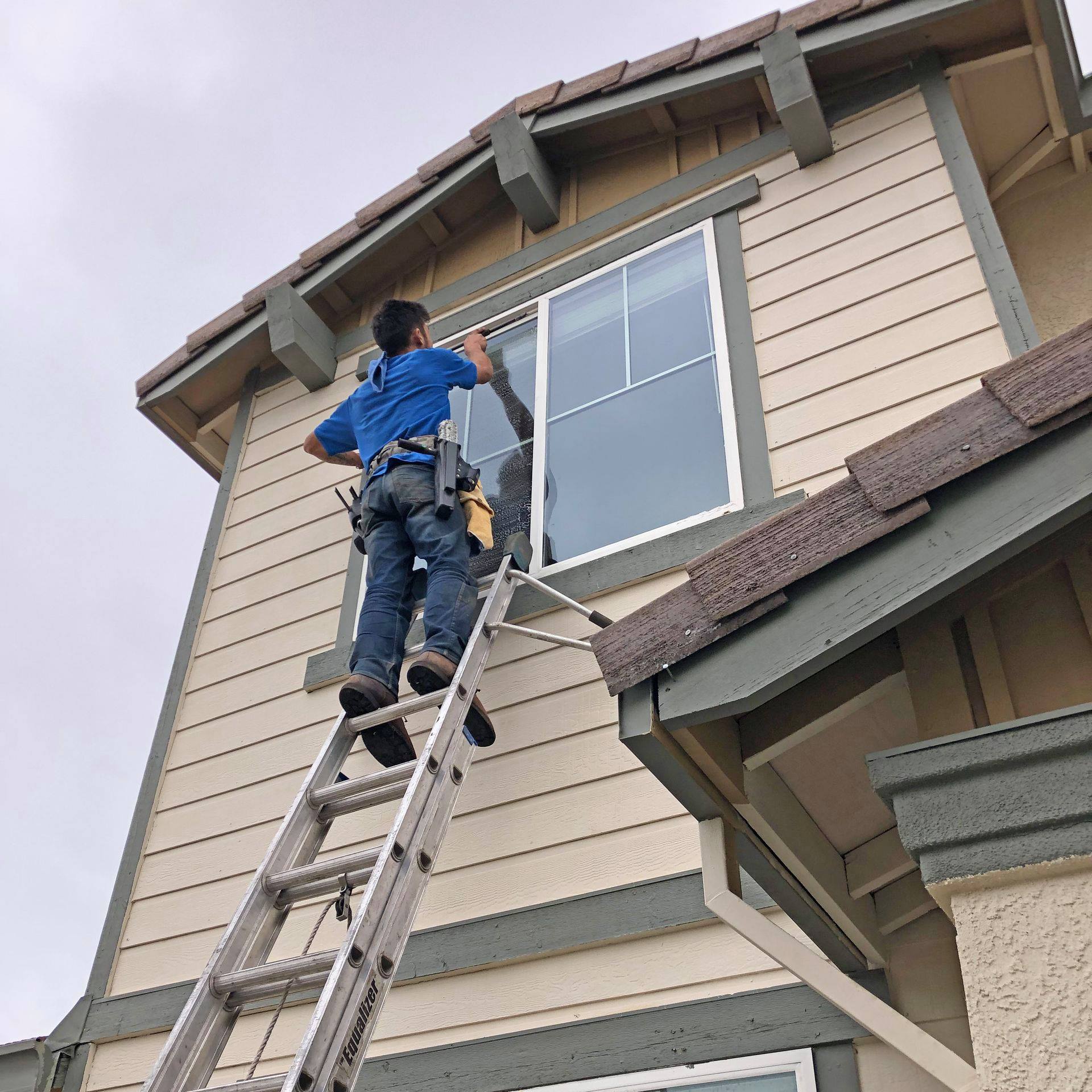 North Highlands, CA Professional Window Cleaning
North Highlands is one of Sacramento's suburbs that offers its residents that tight, suburban feel, as well as easy access to the freeway. North Highlands has many parks and provides its residents with coffee shops, diverse restaurants, and lots of shopping and hiking opportunities around. The trees in the area are stunning, but they also increase the likelihood of your windows getting dirtier faster. This makes it extra important to hire professionals to come and clean your windows otherwise they will end up breaking down faster. When it comes time to clean your windows, you'll want to work with the expert team here at Sierra Vista Maintenance to ensure that your home stays sparkling clean and secured.
Why Choose Sierra Vista Maintenance?
Sierra Vista Maintenance has been providing the people of North Highlands and the surrounding Sacramento area with our exceptional services for over a decade. We ensure that our team is licensed so that you can rest assured that we don't just say that we know what we're doing – we actually do. Our cleaning services can clean your home from the roof down. The exterior of your home should be cleaned, the same as its interior. Our professionals can make that much easier for you. We use high-quality products and equipment to ensure a job well done. We don't just pride ourselves on our work, but on our friendly customer service too. Contact us today to schedule your window cleaning services!