Cleaning the exterior of your home is just as important as cleaning the inside and may come with some questions. Enhancing the curb appeal of your home improves people's first impression of your residence and helps keep your home healthy for those that live there. Windows allow natural light to fill your home, make it feel bigger, and allow you to be able to clearly see the world around you. Keeping them clean can improve the value and curb appeal of your home. 
You might have some questions before you hire a professional window cleaner. Here are the answers to some of the frequently asked questions that window cleaners get. 
1- Do Window Cleaners Clean the Inside of My Windows?
The process of window cleaning will depend on the client's needs. Most professional window cleaners work on the outside of your windows but can also work on the inside of your home when requested. If you want your windows cleaned on both the inside and outside, it is important that you find a full-service window cleaning company that will give you upfront and transparent pricing. This will ensure that you receive the services you need at the quoted price. Sierra Vista Maintenance recommends window cleaning inside once per year, and an outside professional cleaning every six months. 
2- Will Professional Window Cleaning Companies Clean My Window Screens?
Talk specifically to the company you are working with about if they offer screen cleaning services. Cleaning window screens can often be done by the resident, as most times they just need to be dusted. However, there are multiple ways to clean screens and the tracks that they sit inside. At Sierra Vista Maintenance, we will not hide fees for cleaning screens and are upfront about the services we provide. 
3- Do Professional Window Cleaners Clean the Window Tracks?
You will need to communicate with the window cleaning companies you contact and ask about window track cleaning. Some companies charge extra for cleaning these small areas. Sierra Vista Maintenance does include track cleaning as part of our full-service window cleaning. However, if you prefer to clean the window tracks yourself, you can clean them with a small vacuum attachment or with a simple soap solution and a microfiber cloth. 
4- Will Window Cleaning Kill My Plants?
Cleaning chemicals can be very harmful to plants if not applied carefully. Sierra Vista Maintenance works to apply our cleaning solutions only to your windows, paying close attention to your plants. We know that all parts of your home are important to its curb appeal, so we treat your home like it is our own. Indoor and outdoor window cleaning should be done with attention to detail. 
5- How Much Does Professional Window Cleaning Typically Cost?
Hiring a full-service cleaning company comes with different ranges of costs for different services. We include free estimates for clients before we begin our cleaning services. For one-story windows, our average ranges from $16-$18 per window. Second-story windows can range from $20-$22 per window.
6- Can I Rinse My Windows with My Garden Hose?
Hose water contains minerals that can create spots on your windows. These spots, also known as hard water, do not make your windows look clean. It is best to use a window cleaning solution to clean your windows or hire Sierra Vista Maintenance to properly remove dirt and buildup. 
7- Is Hard Water Spot Removal Included In My Service?
Hard water spots are hard to remove, thus the cleaning process is more labor intensive. When hiring a professional cleaning company, you will need to discuss adding the service of hard water removal. If you have this issue with your windows, talk to the window cleaning company about what this added work would cost.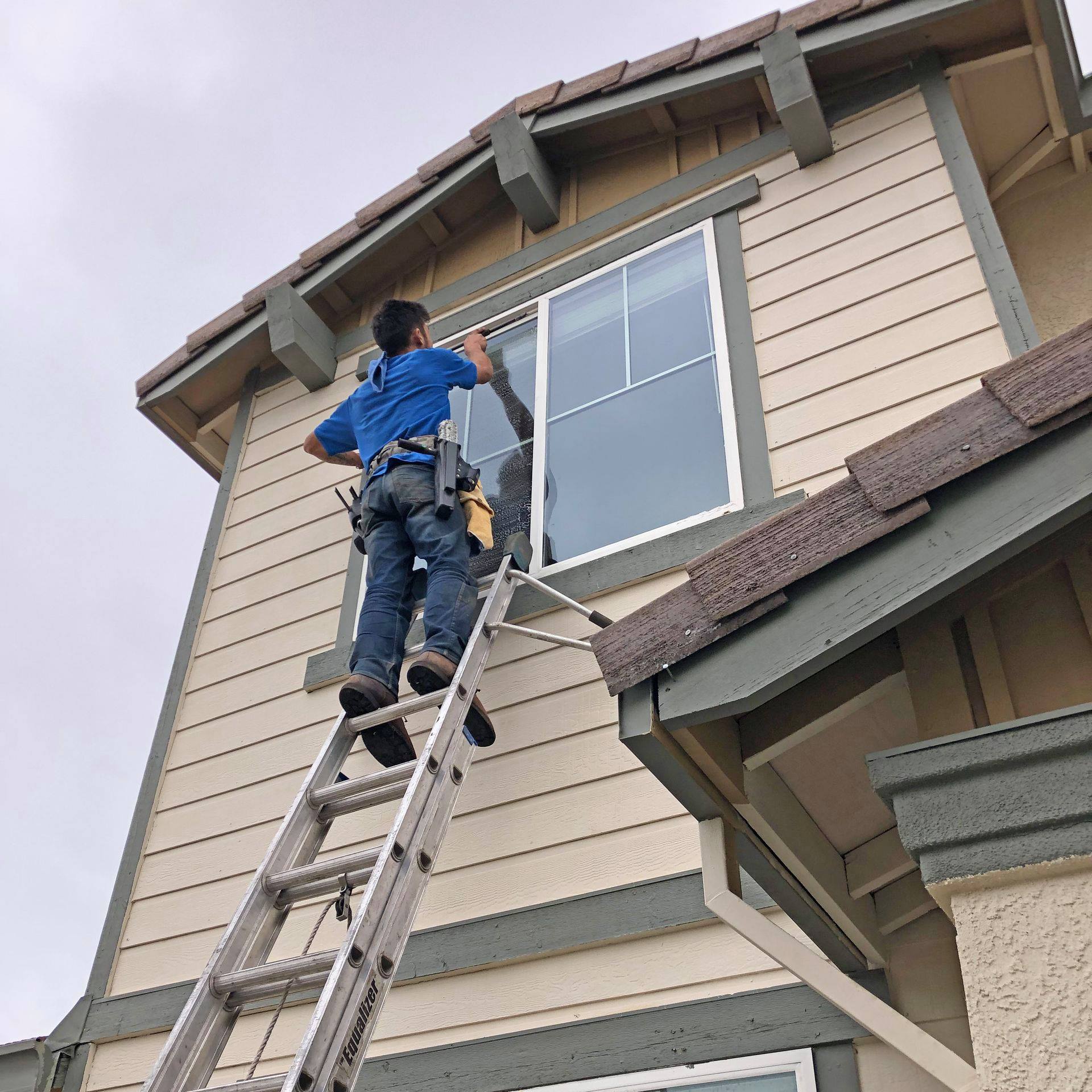 Window Cleaning Questions with Sierra Vista Maintenance
A professional window cleaning company like Sierra Vista Maintenance works to improve the look of homes and businesses in the Sacramento area. We want to make your property look bigger and more inviting. Our cleaning professionals are courteous, and prompt, and create high-quality work. Sierra Vista Maintenance also provides gutter cleaning services, pressure washing, driveway cleaning, roof cleaning, and more. With keen attention to detail, Sierra Vista Maintenance will help upkeep the integrity of your home. Contact us today for your free estimate on window cleaning services.