The windows in your home should look pristine and help your family see the outside world clearly. Double-paned window discoloration can be disheartening and often limit the aesthetic properties of your home. With the majority of windows being double-paned in homes today, this issue can become more problematic. Below are some common reasons for double-paned window discoloration and ways to address the problem. Sierra Vista Maintenance offers many cleaning services for windows to help avoid discoloration.
Causes Of Double-Paned Window Discoloration
Not all causes of discoloration are listed here, but here are some of the most common reasons that your double-paned windows may look lackluster.
Moisture
Moisture stuck between the double panes of glass can cause double-paned window discoloration and also toxic growth. Sediments in the water can cause the color of the window to look different and also have water spots.
Water can also cause rust, which turns panes a darker color and ruins the metal parts of your frames.
Dust Or Dirt Build Up
The most common cause of discoloration is dust and dirt buildup. Without proper cleaning, dirt can build up and cause your windows to look darker or hazy. Completing regular cleaning and maintenance will help stop this cause of discoloration.
Moss Growth
Moisture causes mold, moss, and algae growth. Double-paned window discoloration can look like a faint yellow or green tint. Spots can start to form and look dark green or black, which can be very hard to remove.
Water Spots
If you do avoid mold growth, water spots can make the color of your windows appear darker or less clear. Water spots are caused by sediments in the water and can become permanent if not handled in time. Regular maintenance and window cleaning can help remove water spots and the buildup of sediment.
Solutions
The surefire way to keep double-paned window discoloration from occurring is to have regular maintenance. Sierra Vista Maintenance provides professional window cleaning, pressure washing, and other maintenance on your home to keep unwanted dirt and grime off of your windows. Even DIY cleaning methods can prevent streaks on the interior of your windows, prevent mold growth in window tracks, and help your windows stay clear.
Checking your windows often can help you know if the seal or tracks are broken. Checking seals helps your home stay cool or warm throughout the changing seasons. Maintenance also helps keep unwanted critters or burglars out of your home.
Windows that have missing caulk, chipping, or rotting wood, are more likely to have mold growth and let moisture seep into where it does not belong. Having gutters that keep water away from your home and windows is a great way to keep water spots and growth from discoloring your windows.
Window Maintenance With Sierra Vista
As a full-service cleaning company, Sierra Vista Maintenance offers many services to help improve the look of your home. Not only does regular maintenance keep your home looking great, but it also improves the lifetime of your home.
Gutter cleaning, window cleaning, roof cleaning, pressure washing, and solar panel cleaning can improve the quality of your home and save you money. Not taking care of your windows will lead you to replace them far more often, while hurting the view for your family.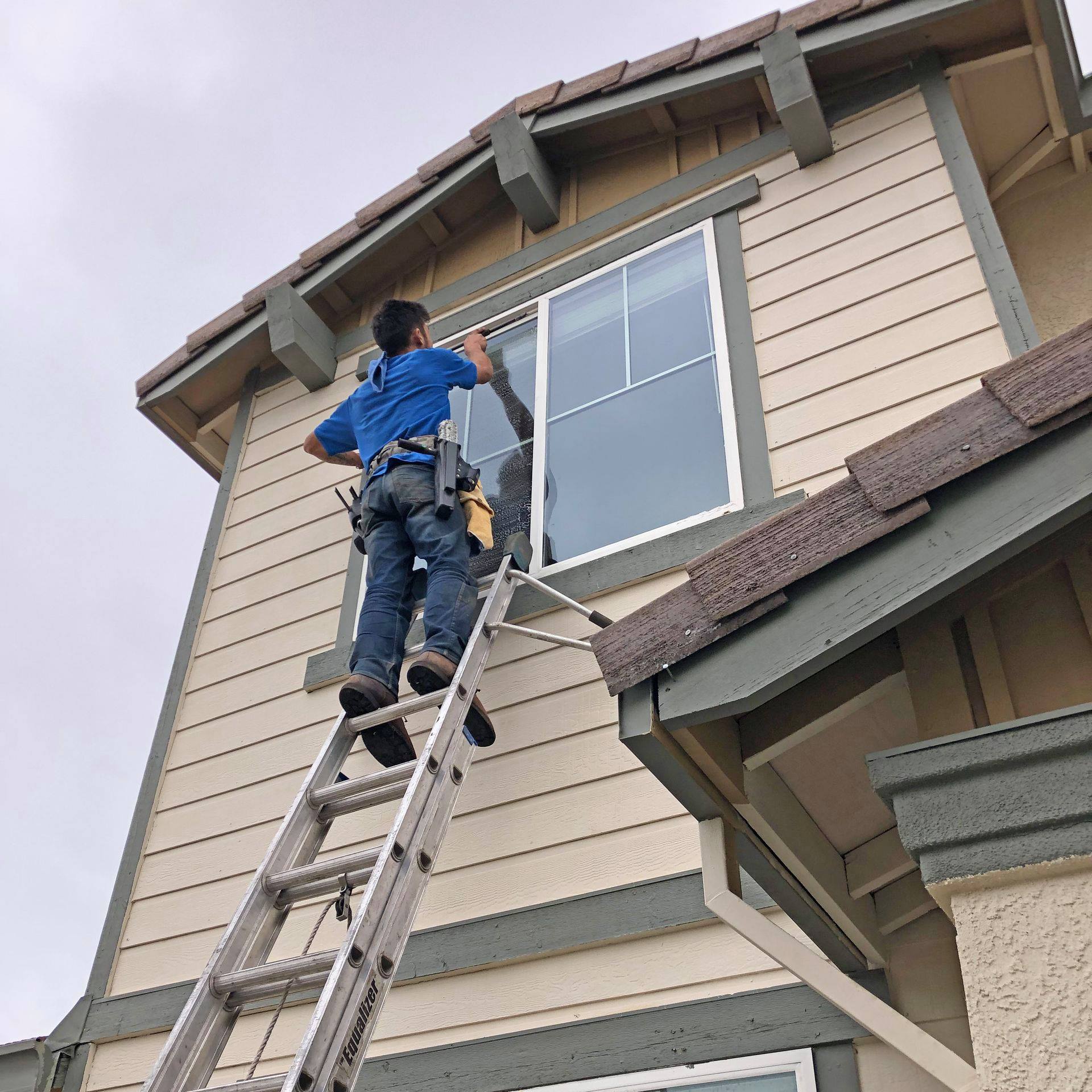 If you have neglected double-paned window discoloration for too long, window replacement is going to be your only solution. Some homeowners may attempt to replace just one pane of glass, but replacing the whole window unit will eliminate the problem completely. Having proper gutter cleaning will also help moisture stay away from your windows and foundation as well.
Our customers trust us to create a difference in the appearance and functionality of their homes. Leave the details and danger of cleaning high areas of your home to the professionals. Contact Sierra Vista Maintenance for all your home cleaning needs.