Dryer Vent Cleaning Services In Rancho Cordova, CA
If you own a home, it is very likely that you also own a washer and dryer. Doing laundry is a common household chore that people participate in at least once or twice a week. With this activity comes the responsibility to keep the machines clean and in proper working order. 
Cleaning out your dryer vents inside the dryer, but also in the pipes that connect to the dryer can be the difference between a fire or not happening in your home. This maintenance may get overlooked in the long list of things that are required as a homeowner, but it is important for keeping your home life comfortable. Maintenance is essential for many parts of your home, we can provide you with maintenance for your entire home.
Dryer Vent Cleaning
Small spaces in your home are often out of sight and out of mind for homeowners. Neglecting these spaces may not be the best option for the efficiency and safety of your home. Dryer vents can become full of lint and dust that should be cleaned out regularly. Cleaning your dryer vents will provide protection for you and your family.
Working with Sierra Vista maintenance gives you a cleaning service that you can trust. Cleaning dryer vents can be hard to reach and clean effectively. Without proper tools, cleaning can get frustrating and inconvenient. Let us make your life easier. Reach out to us for dryer vent cleaning services today. 
When we come to clean your dryer vents you can expect a full inspection of your vents to ensure that we clean everything properly. Our team will then brush and vacuum the dryer lint trap and the dryer vent pipe. Once cleaning is finished we will test the airflow in your dryer to show that the vent pipe is properly cleaned. Once we clean, we don't just leave it at that. We check for any other hazards that may harm you or your family. Our experts know what to look for and keep your home safe.
Home Exterior Maintenance Services
Our whole goal at Sierra Vista Maintenance is to improve the appearance and efficiency of your home. Because of this goal and our dedication to our clients, we provide many services to keep the outside of your home looking professional. Choosing the right maintenance service is vital to the success of different exterior applications including gutters, windows, and solar panels. That is why we offer several other services in addition to dryer vent cleaning.
Our other services include the following: 
Window cleaning

Gutter cleaning

Pressure washing

Solar Panel Cleaning

Roof Cleaning

Dryer Vent Cleaning

Patio and Driveway Cleaning

Real Estate Cleaning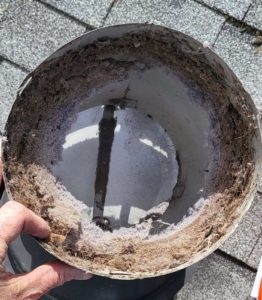 Rancho Cordova, CA Professional Dryer Vent Cleaning
With over 79,000 residents, Rancho Cordova can enjoy both new and existing homes for every budget and lifestyle, and the friendly neighborhoods reflect diversity, opportunity, partnerships, and fun. 
Rancho Cordova also works to tackle community topics such as addressing homelessness, a climate action plan, and celebrating diversity. Rancho Cordova offers many opportunities to learn from the environment as well as the high-quality school districts. There are also 15 higher education and trade schools that have a broad spectrum of classes and learning opportunities. 
The city also is home to the Barrel District which is made up of six breweries, two distilleries, and the only meadery around. If you are planning a trip or planning to move to the Rancho Cordova area, there are many local restaurants and community events to participate in. 
Why Choose Sierra Vista Maintenance?
Sierra Vista Maintenance serves many cities and towns in the Sacramento Valley. We work hard to make sure our clients have an enjoyable experience with us and are satisfied with the results of our maintenance jobs. Our staff is courteous, prompt, and keeps your home clean while doing our job.
Although our business was established in 2010, building our character has been a lifelong process. Kelly, our owner, has been a part of commercial and residential cleaning for years. He has instilled a passion and attention to detail into the whole team and is prepared to offer customer service to those who choose to work with us. 
Let our expert team bring out the shine with our professional gutter cleaning, pressure washing, exterior house washing, and window cleaning services. Get an estimate or quote today.