Dryer Vent Cleaning Services in Sacramento, CA
Those living in modern times are lucky to experience a wide variety of different types of technologies that help us live easier. From medical wonders to computer automation to household appliances, everyday life has changed, mostly for the better. A couple of the things that make life easier within the home are washers and dryers. However, these machines are much less useful when they break down. That is why it is important to do all that you can to keep your appliances in good condition. We at Sierra Vista Maintenance provide high-quality dryer vent cleaning services that will help protect your home and dryer.
Why Hire Dryer Vent Cleaning Services
Dryer vent cleaning is an extremely important part of caring for your dryer. Because dryer vents are out of view, they tend to get forgotten. However, cleaning your dryer vents is extremely important in order to ensure that your dryer can work properly. Without regular cleaning, dryer vents can fill up with dust, lint, and other debris. This debris will eventually plug up the vent, causing your dryer to work less efficiently. Dryer vent cleaning also protects your dryer vent from becoming a fire hazard.
It can be difficult to clean your dryer vents on your own. That is why we at Sierra Vista Maintenance offer dryer vent cleaning services. Cleaning your dryer vents is important, but it can be difficult too. Without the right tools, it can be inconvenient to clean your dryer vents. Let us make your life easier. Reach out to us for dryer vent cleaning services today. 
Home Exterior Maintenance Services
We at Sierra Vista Maintenance provide our clients with dryer vent cleaning services in order to make our customers' lives easier. However, we also provide other exterior maintenance services. These services will aid in protecting your home from dangers including disease and fire. These services will also improve the appearance of your home. We offer maintenance services to both residential and commercial clients.
Our services include the following: 
Window cleaning

Gutter cleaning

Pressure washing

Solar Panel Cleaning

Roof Cleaning

Dryer Vent Cleaning

Patio and Driveway Cleaning

Real Estate Cleaning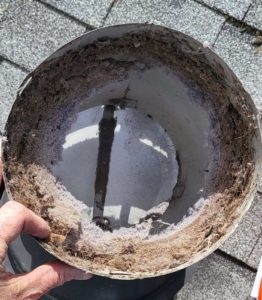 Sacramento, CA Professional Dryer Vent Cleaning
Sacramento is the capital city of California. The home of half a million people, Sacramento is a thriving metropolis with all sorts of different restaurants, businesses, and entertainment options. Sacramento is known for its many historic sites and for being a fantastic place to live for economic opportunities. There are many beautiful parks and museums located in Sacramento. The area has fantastic diversity that is represented by the people that reside there. 
Living in Sacramento has many perks, as outlined above. However, the area also has its downsides, including the cost of living. The cost of living tends to be high in Sacramento. Residents need to do all that they can to save money. That includes taking good care of their property. Cleaning out your dryer vents will protect your home from fire and will help your dryer work more efficiently, saving you money. Reach out to us at Sierra Vista Maintenance for professional dryer vent cleaning services.
Why Choose Sierra Vista Maintenance?
If you are living in the Sacramento, CA area, feel free to reach out to us at Sierra Vista Maintenance for exceptional dryer vent cleaning services. We are passionate about helping our clients improve their homes. With our high-quality cleaning and maintenance services, your home will look great and your home's appliances will work more efficiently. For more information about our services or to schedule dryer vent maintenance, feel free to reach out to us today.