Pressure Washing Services
Are you looking at your home or business and thinking that it could use a refresher? If you have an older building or are simply looking to make your building look cleaner, you may want to consider hiring professional pressure washing services. We at Sierra Vista Maintenance provide our clients with the best of the best when it comes to exterior cleaning solutions. Pressure washing can help freshen up your property by removing grime, dirt-buildup, rust, and peeling paint. 
While there are do-it-yourself pressure washing options that are on the market, there is no substitute for professional pressure washing services. With the right pressure washing service, you can not only make your home look more appealing but can also prevent potential damage to your property.
Prevent Damage To Your Property
One of the greatest benefits of pressure washing is that it prevents damage to your property. Dirt buildup on the exterior of your house can erode brick on your property and eventually cause extreme damage. Additionally, mold and mildew or other substances can accumulate over time, causing parts of your property to deteriorate. Mold can also cause health-related issues for your family, which can be annoying and harmful. Rust is another concern that could potentially plague the exterior of your home. Rust causes a lot of damage and can decrease the lifespan of your different metal fixtures.
Pressure washing can decrease the likelihood of these issues developing. Pressure washing uses a steady blast of water to remove dirt, dust, mold, and rust. Using professional pressure washing services ensures that your home or building receives the very best care and is protected from future damage. Our pressure washing services extend from home siding to several other outside spaces:
Driveways

Decks and patios

Concrete

Siding

And more!
Save Time Cleaning Your Home
Clearly there are many tangible benefits of pressure washing. However, there are also nonphysical benefits that you can gain from using pressure washing services. One of the reasons why you should consider hiring pressure washing services is because they will save you so much time and effort. Everyone always seems to be busy, and it can be refreshing to be able to offload some of the work to people that you know will do a great job. We at Sierra Vista Maintenance are a conveniently located service to those living in Antelope, CA and the surrounding area. Convenience is important when it comes to pressure cleaning services. Convenience is also important for other exterior cleaning services.
In addition to our pressure washing, we provide other services:
Roof cleaning

Gutter cleaning

Window cleaning

Solar panel cleaning

Dryer vent cleaning

Commercial services

And more!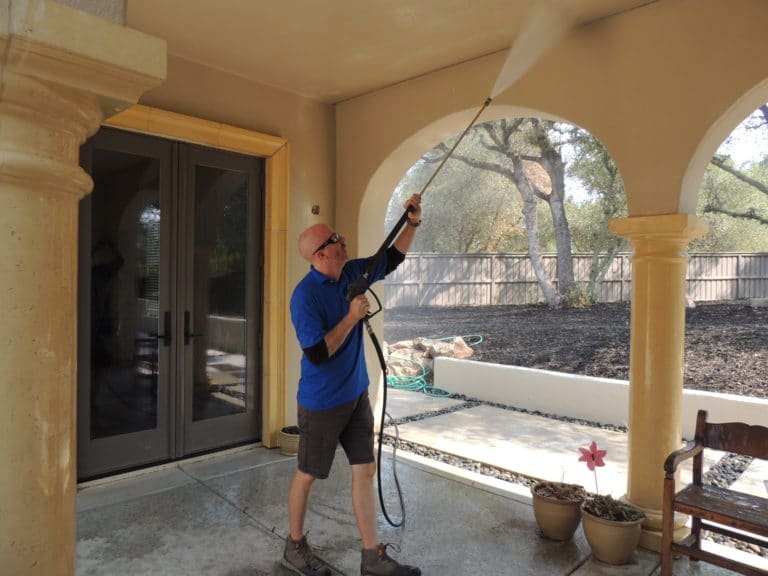 Antelope, CA Professional Pressure Washing
Antelope is a suburb in the Greater Sacramento area, with very high population density. With the sparse suburban feel, many families move to Antelope to raise their children. This mostly flat area doesn't have much in the way of trees, nor any major bodies of water; however, there's no shortage of things to do in Antelope. With festivals, hikes, botanical gardens, restaurants, and swap meets, you needn't worry about getting bored here. On the other hand, the weather can be unpredictable, which increases the need for Antelope residents to get pressure washing. 
Pressure washing keeps your property in good condition and ensures it looks its best. Sierra Vista Maintenance offers professional pressure washing services that will boost your home's curb appeal and value and stave off potential damages.
Why Choose Sierra Vista Maintenance?
Sierra Vista Maintenance is a leader in providing individuals and businesses with high quality pressure washing and exterior maintenance services. We understand the importance of being quick and efficient, and that is why we provide our customers with many convenient maintenance options. For more information about how our company can be useful to you and your home or business, reach out to us today.