REQUEST YOUR FREE ESTIMATE BY FILLING THE FORM BELOW
Pressure Washing Services
Pressure washing services are performed all over the country for all sorts of different reasons. Some areas are rather dusty and sandy, meaning that they will cause your house to look dirty. Dirt and sand can also cause damage to brick and concrete, as these particles can wear down brick and concrete over time. Other places in the United States are more humid, meaning that the area is more prone to mold and mildew. If you are living in Orangevale, California, or the surrounding area, you may be in need of pressure washing services. We at Sierra Vista Maintenance
Hire Our Pressure Washing Services
If you are in need of pressure washing services in Orangevale, California, feel free to reach out to us at Sierra Vista Maintenance. Our pressure washing services can protect your property and make it look much more appealing. As previously mentioned, pressure washing services can protect your property from all sorts of allergens and substances such as dirt, dust, mold, mildew, and other debris. Pressure washing is also great for removing animal droppings or old nests which could contain diseases.
Pressure washing services are useful for making your property look more appealing. If you live in a light colored home, dirt can show up more easily. With pressure washing services, you can remove the dirt quickly and conveniently. Pressure washing is also useful for removing rust and peeling paint.
Do You Need Exterior Cleaning Services?
Our pressure washing services at Sierra Vista Maintenance cannot be outperformed. We love our clients and that is why we offer pressure washing services for both residential and commercial properties. We also offer several services that are intended to improve the exterior of your home or business. 
Some of the services we offer include:
Window cleaning

Roof cleaning

Solar panel cleaning

Gutter cleaning

Dryer vent cleaning

Patio and driveway cleaning

And more!
Reach out to us at Sierra Vista Maintenance to learn more about our services and to get a quote for your property. If you are interested in our services or would like to learn more about pressure washing, feel free to reach out to us today.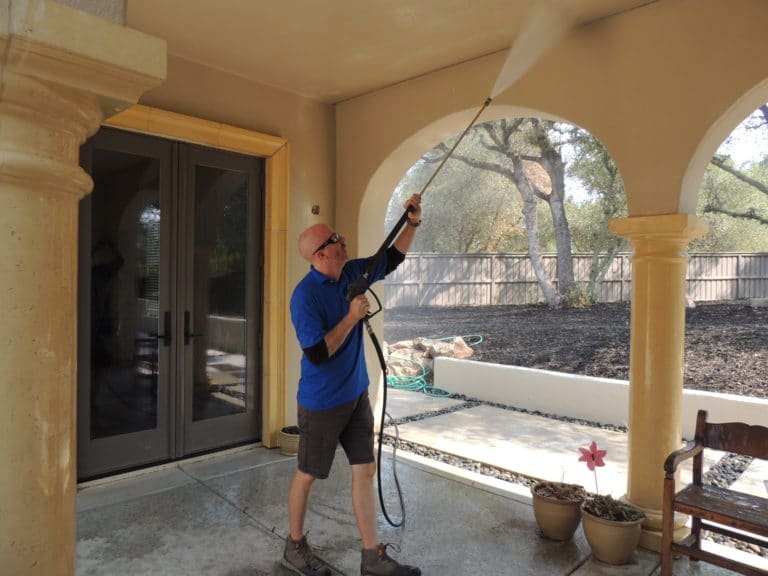 Orangevale, CA Professional Pressure Washing
Orangevale, CA is a community situated in Sacramento County and is located a little under a half hour away from downtown California's state capital, Sacramento. Orangevale is a suburb of Sacramento that is a wonderful place to raise a family. It is a place where families, young graduates, professionals, and retirees can all live easily and peacefully. Its close proximity to Sacramento makes the area a great place to live to find work and also enjoy beautiful views of natural wonders including the Sierra Nevada mountains.
It is temperate in Orangevale for most of the year. The weather, proximity to Sacramento, and the safety of the area make Orangevale an attractive place for many people to live. However, it can be rather expensive to live in Orangevale. If you are living in Orangevale, you likely spend a lot of your free time outdoors, as it is lovely a lot of time. If this is the case, you likely notice when homes look clean and well maintained and when they do not. If you want to ensure that your home is presentable and looks nice for a lot of the year, consider getting pressure washing services. Reach out to us at Sierra Vista Maintenance for more information.
Why Choose Sierra Vista Maintenance?
We at Sierra Vista Maintenance are proud to provide our clients with excellent pressure washing services. We have been serving Orangevale and the surrounding area for many years and continue to provide high quality options for our clients. Our team is experienced and professional and can answer any questions that you may have regarding pressure washing or any of our other services. If you have any questions or would like to schedule maintenance for your building, feel free to reach out to us at Sierra Vista Maintenance.