Solar Panel Cleaning Services In Folsom, CA
Installing solar panels is a fantastic way to save money on your energy bills and make your home environmentally friendly. In sunny California, solar panels are an especially great addition to your home, since the more light that hits your solar panels, the more power they will generate for your home. However, if your solar panels are dirty, this lessens the amount of light they can take in, and ergo make it so that they don't perform as well. Sierra Vista Maintenance provides professional solar panel cleaning services to optimize your solar panels' performance.
Prevent Dirt Build-up
It's easy for dirt and dust to build up on your solar panels since they're outside, exposed to the elements (and bird droppings). If you live in an area that's undergoing a lot of growth, like Folsom, all of that construction generates even more dirt and dust, and debris that floats in the air. Debris accumulates on your solar panels, lessening their performance and increasing your energy bills. Regular solar panel cleaning is essential to keep them working as they should so that you get the most out of your investment.
As with anything, if solar panels aren't maintained their performance level decreases. When dirt builds up on your solar panels, those dirty areas get hotter faster than the rest of the panels, which can increase the speed at which your solar panels deteriorate. Sierra Vista Maintenance has trained experts with the experience and equipment necessary to rid your panels of stubborn spots. Cleaning solar panels is a tricky job that should be performed by those who have experience.
Beautify Your Home
Dirty solar panels aren't just less efficient, they also bring down the aesthetic appeal of your home. At Sierra Vista Maintenance, we provide exceptional cleaning services to make your solar panels clean and fresh, as well as for the rest of the exterior of your home. From the roof down, we provide professional services to make your home look good as new. Some of the cleaning services we offer include:
Window cleaning

Roof cleaning

Dryer vent cleaning

Driveway cleaning

Patio cleaning

Gutter cleaning

Pressure washing 
There's no need to take on the hassle of trying to clean the exterior of your home yourself. Leave the dirty work to us. We'll increase curb appeal and longevity of your property with our high-quality, professional, friendly services.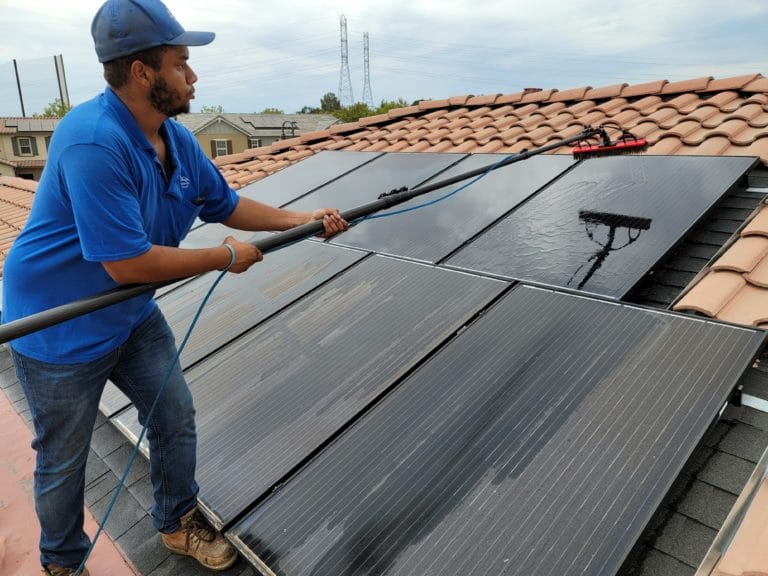 Folsom, CA Professional Solar Panel Cleaning
Residents of Folsom love it for being "the city away from the city." It's a very safe, clean area with good schools and is quieter than the rest of California tends to be. Because of this, Folsom is experiencing significant growth in home development as more people want to take advantage of the peaceful atmosphere. All this construction increases dust and debris that can affect your solar panels, which makes regular solar panel cleaning all the more important for the people of Folsom. Dirty solar panels lower the appeal of your home. In such a clean area as Folsom, you don't want to be that one neighbor with a dirty house bringing down the appearance and value of the entire neighborhood. 
Sierra Vista Maintenance understands how much pride the people of Folsom put into the cleanliness of their homes. Our company knows that expansion often means more work to keep your home clean. This is why our professional services help to enhance curb appeal and increase the durability of your solar panels. Our services will make your home look brand-spanking new and keep everything working as it should.
Why Choose Sierra Vista Maintenance?
For over ten years, Sierra Vista Maintenance has been providing the people of Folsom and the Greater Sacramento area with exceptional solar panel cleaning services. When you choose Sierra Vista Maintenance for your solar panel cleaning, you'll be working with licensed, trained professionals with the necessary products and equipment to leave your home spotless. We value the quality of our work and our friendly service and want you to walk away from working with us thrilled with how we've helped your home. Give us a call to schedule your solar panel cleaning service today!