REQUEST YOUR FREE ESTIMATE BY FILLING THE FORM BELOW
Solar Panel Cleaning Services
Solar panels are a great investment for all sorts of reasons. If you live in an area that gets a lot of sun such as Lincoln, California, solar panels are a great asset as they will be able to pick up a lot of energy. Solar panels can save you a lot of money over time on electricity bills. This is so important especially if you are living somewhere that has a high cost of living. However, solar panels are rather expensive equipment, so it is important to be properly equipped with tools to help you maintain the panels for as long as possible. This includes having great solar panel cleaning services. Reach out to us at Sierra Vista Maintenance to get the best solar panel cleaning services.
Solar Panel Cleaning Services You Can Trust
Professional solar panel cleaning services are important for taking care of your sensitive and valuable solar panels. Your solar panels are a big investment and that is why it is important to invest in giving them the proper care. Solar panels need to be cleaned and maintained on occasion in order to ensure that they are able to work properly.
If a layer of dirt and grime coats your solar panels, the sun will not be able to penetrate it to get to the panel. This will make your panels less efficient and will cause them to work harder to create energy for your home which could cause issues. With solar panel cleaning services, you can be sure that your solar panels will not only be properly cared for, but will also be able to work to their full potential.
Solar Panel Cleaning & More
Not only do we provide stellar solar panel cleaning services to residential and commercial buildings in Lincoln, California and the surrounding area, but we also offer several other services that are bound to help your home look more appealing and be better protected from the elements. If you are interested in making your house look cleaner or are wanting to spruce up your windows, roof, gutters, or patio, feel free to reach out to us at Sierra Vista Maintenance. 
Some of the services we offer include:
Window cleaning

Roof cleaning

Pressure washing

Gutter cleaning

Dryer vent cleaning

Patio and driveway cleaning

And more!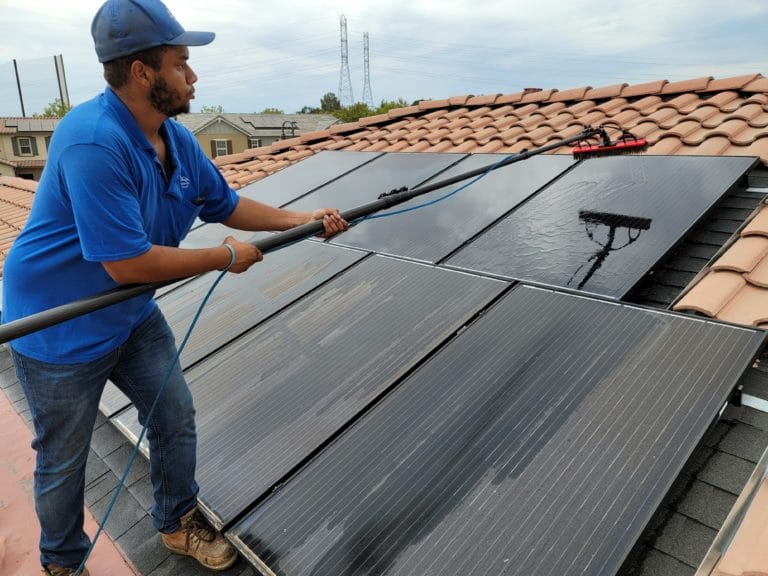 Lincoln, CA Professional Solar Panel Cleaning
Lincoln, CA is a city that is located in Placer County in the greater Sacramento, CA area. Lincoln offers a small town atmosphere and is a great place for families to live. Lincoln is a more affordable area to live in compared to the rest of California. Lincoln, California is a safe area where families, young professionals, and retirees reside. The community in Lincoln is tight-knit and offers a safe and comfortable environment to live. Lincoln is known for being warm and temperate most of the year and for being near views that are exceptionally beautiful.
If you are living in Lincoln, CA, you likely enjoy its proximity to Sacramento and the warm temperatures that the city experiences year around. Due to the sun that the city receives during the year, it may be a good idea to consider getting solar panels. If you have solar panels or are considering getting solar panels, it is also important to take into consideration solar panel maintenance. If your solar panels are dirty, then it may become difficult for them to pick up energy. Reach out to us at Sierra Vista Maintenance in order to take advantage of our high quality solar panel cleaning services.
Why Choose Sierra Vista Maintenance?
Sierra Vista Maintenance is a company that is well-known for having high-quality home maintenance services. We provide our clients with all the potential services that they could need for maintaining the exterior of their home. We employ experienced maintenance teams that will be able to answer any questions that you may have about caring for your home or what services could be useful for different needs. If you are interested in learning more about solar panel cleaning services or would like to schedule some home exterior cleaning services, we at Sierra Vista Maintenance would be happy to help you out. For more information, reach out to us today.