Solar Panel Cleaning Services In Rancho Cordova, CA
When homeowners think about maintenance, solar panel cleaning probably isn't at the top of their lists. Yet, in order for solar panels to function at their best, they need regular cleanings. Especially in areas that don't get much rain, it's very easy for dust and dirt and bird droppings to accumulate on your solar panels. If you're spending the money to install solar panels, it's likely because you want to improve the energy efficiency of your home, make your home more environmentally friendly, and save money in the long run. Sierra Vista Maintenance can help you ensure that you reap all of those benefits solar panels can provide you with our professional solar panel cleaning services.
Why Solar Panel Cleaning Matters
Solar panels work by turning light into energy. The more light that hits them, the more power they can generate for your home. However, when solar panels get dirty, this reduces the amount of light that they are able to convert into energy. Over time, as dirt and dust buildup on your solar panels, this renders them less and less efficient. Regular solar panel cleaning will ensure that your solar panels will be able to continue to perform at optimal efficiency for years to come.
You should hire a professional like from Sierra Vista Maintenance in order to do your solar panel cleaning rather than trying to do it yourself. This is because it can be dangerous to clean your solar panels yourself, with how you could fall off the ladder of the roof. It's also because many household cleaning products can actually damage your solar panels and leave streaks all over them. Sierra Vista Maintenance has the equipment and products necessary for our trained experts to ensure a safe solar panel cleaning that leaves your solar panels spotless and able to last for much longer.
High Quality Services You Can Trust
Although we are very proud of our solar panel cleaning services, that's not all that the professionals at Sierra Vista Maintenance can do for you. We want to make your home look brand new, from the top down. We offer professional roof cleaning, gutter cleaning, pressure washing, driveway cleaning, patio cleaning, window cleaning, and more. Our services are perfect for those who want to ensure that their home is well and truly clean, since we are so thorough.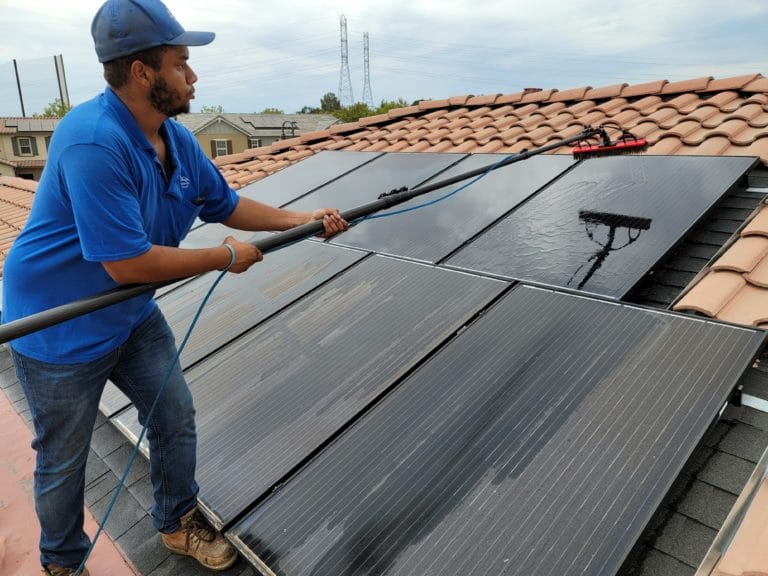 Rancho Cordova, CA Professional Solar Panel Cleaning
Rancho Cordova is a very safe and very diverse area that provides its residents with easy access to the city of Sacramento and all it has to offer, as well as wonderful schools, great restaurants and parks, and beautiful surroundings. Rancho Cordova is full of both residential and commercial buildings, which can get dirty easily, since the weather remains fairly consistent all year round. All of the trees may be lovely, but they also increase the amount of fallen leaves and debris that can build up on your solar panels.
The people of Rancho Cordova take a lot of pride in their community and the cleanliness of their home. You don't want your home or commercial building to bring down the rest of the neighborhood or block with dirty solar panels. Sierra Vista Maintenance offers professional solar panel cleaning for both residential and commercial properties. We know that many people in Rancho Cordova have families to attend to and busy schedules, which is why we offer flexible appointments. We want to help you have clean solar panels again. When it comes time to get your solar panels cleaned, we're the ones you'll want to work with.
Why Choose Sierra Vista Maintenance?
Sierra Vista Maintenance is different from other solar panel cleaning companies in that we put your satisfaction and the quality of our work above everything else. We know that trying to clean your solar panels yourself can end up damaging them and even result in potential injury. Our trained experts have the experience and equipment to clean your home from the top down in a safe and quality way. It's inevitable that your solar panels will get dirty since they're outside, but that doesn't mean you have to just grin and bear it. Sierra Vista Maintenance will bring your solar panels back to life and ensure you're more than satisfied with the quality of our work and the service we provide for you. Contact us today to schedule your solar panel cleaning!