Solar Panel Cleaning Services In Rocklin, CA
Residential solar panels are constantly exposed to the elements. This constant exposure makes it very easy for them to get dirty, which impacts their efficiency. Regular solar panel cleaning is a must to ensure that your solar panels perform at optimal efficiency. The purpose of solar panels is to improve your energy efficiency in your home while becoming more environmentally friendly. Dirty solar panels are unable to gather as much light because of dirt buildup. At Sierra Vista Maintenance, we provide professional solar panel cleaning services so that your solar panels can perform at their best and last longer.
Improve Energy Efficiency
Dust, dirt, debris, and bird droppings can accumulate on your solar panels, lessening the amount of light they can generate into power for your home. Left unchecked, you'll likely notice that your solar panels are becoming less efficient due to dirt accumulation. Solar panels are not cheap, so you want them to perform correctly so that you can get your return on your investment. If you don't have regular solar panel cleaning, this will affect how long it will take for your solar panels to pay off. However, regular solar panel cleaning will improve efficiency and help you see that ROI sooner than later.
Sierra Vista Maintenance knows that solar panels aren't cheap, which is why we use only professional quality products and equipment to leave your solar panels pristine and in the best condition to receive the maximum amount of light. In a place like Rocklin, where the population is dense, people will take notice of the condition of your solar panels. Sierra Vista Maintenance will leave them sparkling clean, so your home will be as clean as the rest of the city.
Services That Go Above And Beyond Expectations
Sierra Vista Maintenance offers exceptional services for more than your solar panels. When you work with us, you won't be working with people who just want to get the job done and leave. We take pride in the quality of our work and our friendly service. We want to make your home as clean as possible, from the roof down to your driveway.
Some of the services we offer include:
Roof cleaning

Gutter cleaning

Pressure washing

Dryer vent cleaning

Patio cleaning

Driveway cleaning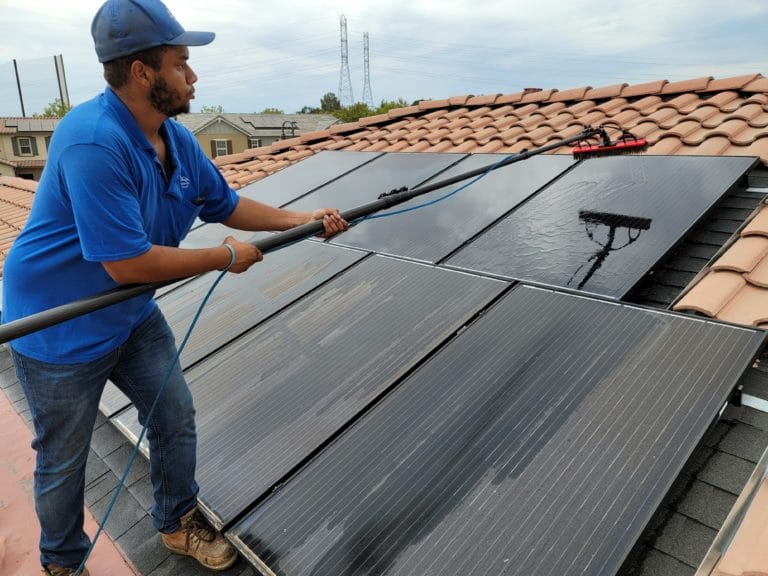 Rocklin, CA Professional Solar Panel Cleaning
Ranked among the best places to live in the country, Rocklin is a beautiful and safe suburb that is considered a fantastic place to raise a family in, even with its dense population. Everything is close together, but the people of Rocklin take a lot of pride in how clean everything is. With a friendly atmosphere, lovely weather, and no shortage of amenities or things to do, there's no wonder why families gravitate towards it. Since the community values its cleanliness, you don't want your dirty solar panels to impact the appearance of the entire neighborhood. Your home should meet the standards set by the rest of the community, and regular solar panel cleaning will ensure that your home isn't the sore thumb on the block.
Professional solar panel cleaning will ensure that your home maintains its curb appeal and optimize the efficiency and durability of your solar panels. Trying to DIY solar panel cleaning can leave them with streaks and scratches all over, which won't improve the aesthetic appeal of your home or its efficiency. Instead of getting your hands dirty, leave the solar panel cleaning to us. We'll make them sparkle!
Why Choose Sierra Vista Maintenance?
With so many solar panel cleaning companies around, you want to ensure that you select the best option to protect your investment. Sierra Vista Maintenance has served the Greater Sacramento area for over ten years. We only hire professionals with the training necessary to promise the high-quality work we expect our customers to receive. We value exceptional work and friendly service. When you choose Sierra Vista Maintenance for your solar panel cleaning, you can rest assured that you're getting the best quality service. Contact us today to schedule your solar panel cleaning!