Solar Panel Cleaning Services In Roseville, CA
It's not uncommon for people to assume that solar panels don't need cleaning, and leaving them alone after installation is best. The truth is that your solar panels need regular cleaning to optimize efficiency. When sunlight hits your solar panels, they convert that energy into electricity for your home. When your solar panels get dirty, this affects how much energy they can provide for your home or business. Sierra Vista Maintenance offers professional solar panel cleaning services to increase the efficiency of your solar panels, improve the curb appeal of your home, and help them last longer.
Protect Your Investment
It's very easy for dirt, debris, and bird droppings to accumulate on your solar panels, especially in an area like Roseville that does not receive much rain. Plus, when your solar panels are dirty, those dirty patches get hotter faster than the rest of your solar panel, which leads to faster deterioration. Dirty solar panels can't take in as much light, so you'll likely notice an increase in your energy bills. Regular solar panel cleaning will improve the durability of your solar panels, making them last longer, and increasing their efficiency so that you can notice a return on your investment sooner rather than later. Solar panels can save you a lot of money in the long run – but you need to do your part to help them with regular solar panel cleaning. 
Sierra Vista Maintenance knows that while it can be tempting to try to clean your solar panels yourself, the reality is that solar panel cleaning is a job best left to the professionals. Solar panels are more sensitive than other parts of your home. If they become scratched, they'll need to be repaired or replaced. Plus, many household cleaners leave streaks on solar panels. Sierra Vista Maintenance has the equipment and products to carefully clean your solar panels.
Exceptional Services To Beautify Your Home
The exterior of your home says a lot about you, as much as we may wish it didn't. People judge books by their cover and judge you on the cleanliness of your home. A professional cleaning will keep your home looking brand new and help it to last longer. Sierra Vista Maintenance offers professional services to clean your home from top to bottom. In addition to our exceptional solar panel cleaning services, we also provide you with roof cleaning, gutter cleaning, pressure washing, dryer vent cleaning, driveway cleaning, patio cleaning, and more. There's no need to get your hands dirty when you can leave that to us. The trained professionals at Sierra Vista Maintenance will leave your home pristine.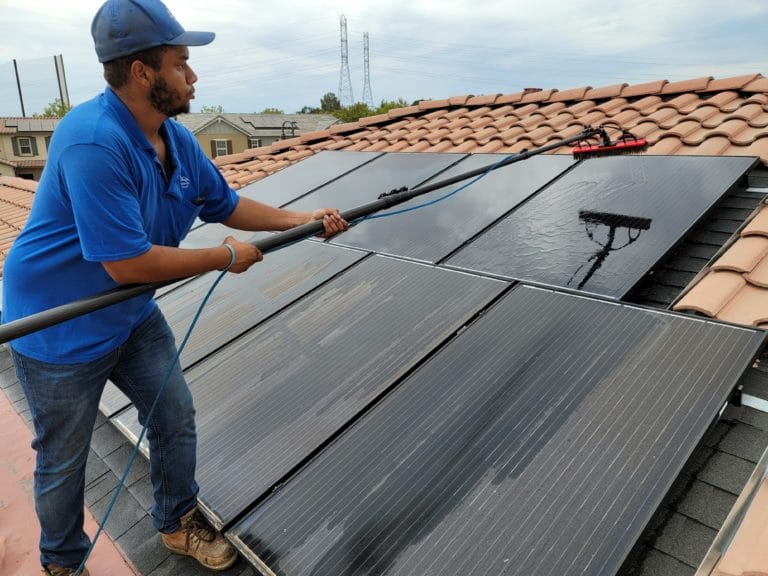 Roseville, CA Professional Solar Panel Cleaning
Roseville is an exceptionally family-friendly and safe city northeast of Sacramento. Residents of Roseville enjoy the best of both worlds, with the big city opportunities of Sacramento and the expansive wilderness of Lake Tahoe within proximity. The people of Roseville have no shortage of entertainment and shopping opportunities. Since the surrounding area is quite flat and Roseville doesn't get a lot of rain, dirt accumulates easily on your solar panels. The heat can cause your solar panels to deteriorate faster. Sierra Vista Maintenance provides professional solar panel cleaning services to keep up your home's aesthetic appeal and preserve the efficiency of your solar panels. 
Why Choose Sierra Vista Maintenance?
Sierra Vista Maintenance has served the Greater Sacramento area for over a decade. We're familiar with all the factors that can affect the efficiency of your solar panels and our expert team has gone through extensive training and obtained licenses to promise quality work. We know that your solar panels can be difficult to clean properly, but with our equipment and products, we will leave your home spotless. We always strive to put our best foot forward to give every one of our customers the highest quality work and customer service. When it comes time to schedule your solar panel cleaning, look no further. Contact Sierra Vista Maintenance today for your solar panel cleaning!