Solar Panel Cleaning Services In Sacramento, CA
Many homeowners choose to have solar panels installed in order to save money on their energy bills and to improve the environmentally friendliness of their homes. When cared for properly, solar panels can save you a lot of money over the years. In order to do that, solar panel cleaning should be a regular part of your home care. Many people assume that solar panels don't need to be touched after they've been installed, but in order to optimize their efficiency, solar panels need regular cleaning. Sierra Vista Maintenance offers professional solar panel cleaning so that you can see that return on your investment sooner than later and that your solar panels will be able to continue to generate the expected amount of energy into your home.
Maximize Your Solar Panels' Potential
It's easy for solar panels to get dirty; they are outside all the time, after all. Over time, the buildup of dirt and dust and bird droppings and debris decrease your solar panels' efficiency. Your solar panels work by converting light into electricity for your home, so the more light that they can retain, the better. When your solar panels are dirty, though, this affects how much sunlight they can convert into power. If you're noticing that your energy bills are starting to rise even with solar panels installed, this could be a sign that it's time to have a professional come out to clean your solar panels.
In an area like Sacramento where there are so many trees, it's especially easy for debris to buildup on your solar panels. While it may be tempting to try to DIY your solar panel cleaning, this is a job best left to the professionals at Sierra Vista Maintenance, due to how dangerous it can be, how easy it is to accidentally damage your solar panels, and how most household cleaners will leave streaks on them. The professionals at Sierra Vista Maintenance have the training, equipment, and products necessary to do safe, high quality solar panel cleaning that will leave them spotless so that their potential is optimized.
Leave The Dirty Work To Us
Everyone wants a clean home, but when it comes to the exterior of your house, that can be put off, since cleaning your roof, your driveway, your dryer vents, your windows can be such a process. Not to mention, these can be more than tedious, they can be dangerous if you're not as professional. Rather than hemming and hawing about how much effort you want to put into cleaning the exterior of your home, leave the dirty work to us. In addition to exceptional solar panel cleaning services, Sierra Vista Maintenance can also clean your roof, your gutters, your windows, your patio, your driveway, your dryer vents, and do pressure washing. We'll leave your home looking like it's brand new!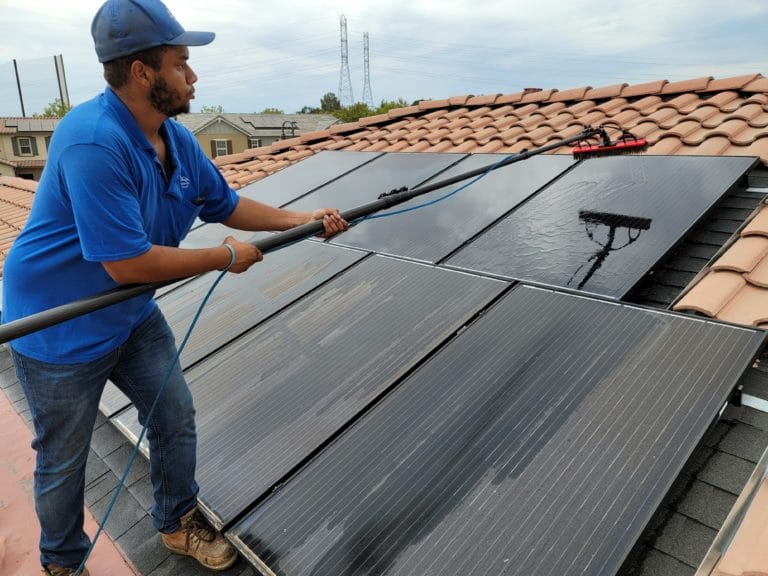 Sacramento, CA Professional Solar Panel Cleaning
Living in Sacramento is truly an exceptional experience, with how it combines that big city feel with plenty of trees and rivers and outdoor activities. The people of Sacramento can bask in all of the trees, recreation opportunities, and the fact that they reap all the benefits of a big city – without being overcrowded. Sacramento has many different kinds of homes and buildings, with commercial businesses being more towards the heart of the city while residential buildings stay more so on the outskirts. Sacramento has many benefits for its residents, but some of those very benefits can negatively affect your solar panels.
All of those trees are beautiful, but they also increase the amount of fallen leaves and debris that can accumulate on your solar panels. Sierra Vista Maintenance provides professional solar panel cleaning services so that your solar panels can maintain their efficiency and the aesthetic appeal of your home increases. You don't want anything to affect how well your solar panels work, nor do you want dirty solar panels lowering your home's curb appeal. Our trained experts will leave your solar panels spotless.
Why Choose Sierra Vista Maintenance?
What sets Sierra Vista Maintenance apart from the other solar panel cleaning companies in Sacramento? We've been serving the people of Sacramento and the surrounding area for over a decade. We make sure all of our experts are licensed and have undergone extensive training so that they can provide the highest quality services for you. Our services will optimize the efficiency of your solar panels, increase the appearance of your home, and help improve its durability. The exterior of your home shouldn't be neglected, but there's no need for you to take on those projects. Leave that to us. Contact our professionals at Sierra Vista Maintenance to schedule your solar panel cleaning today!