REQUEST YOUR FREE ESTIMATE BY FILLING THE FORM BELOW
Solar Panel Cleaning Services
If you are living in Land Park, California, you understand that solar panels are a great investment. Solar panels offer all sorts of benefits including helping homes and businesses be more environmentally friendly, helping people save money on electricity bills, and providing greater flexibility in the event of an emergency. Due to being an area that experiences clear skies much of the time, Land Park is a great place to live if you want to utilize solar power. However, it is so important to take proper care of your solar panels, in order to reap as many of the benefits as possible.
Premium Solar Panel Cleaning Services
Solar panels are a wonderful investment for all sorts of people. Solar panels are especially great for those living in areas that get a lot of sun. However, they are rather expensive and require the exact right amount of sunlight to work properly. Oftentimes, homeowners will place solar panels on the roof so that the panels can get as much sunlight as possible. However, the old saying goes "out of sight, out of mind." This saying is very true for solar panels; a lot of times owners forget about their solar panels for months to years at a time. 
That is why professional solar panel cleaning services are useful. Once or twice a year, the professionals will come out to your house and make sure that your solar panels are properly cleaned. Panels that are kept clean will last longer and work more efficiently. Professional solar panel cleaning services are also useful because these people know how to ensure that your solar panels are not damaged while being cleaned.
Find The Maintenance Services You Need
We at Sierra Vista Maintenance provide homeowners with more than solar panel cleaning services. We also provide excellent home exterior maintenance services that can help your house or building look and feel better. We provide both residential and commercial exterior cleaning services.
Some of the other services we offer include:
Window cleaning

Roof cleaning

Pressure washing

Gutter cleaning

Dryer vent cleaning

Patio and driveway cleaning

And more!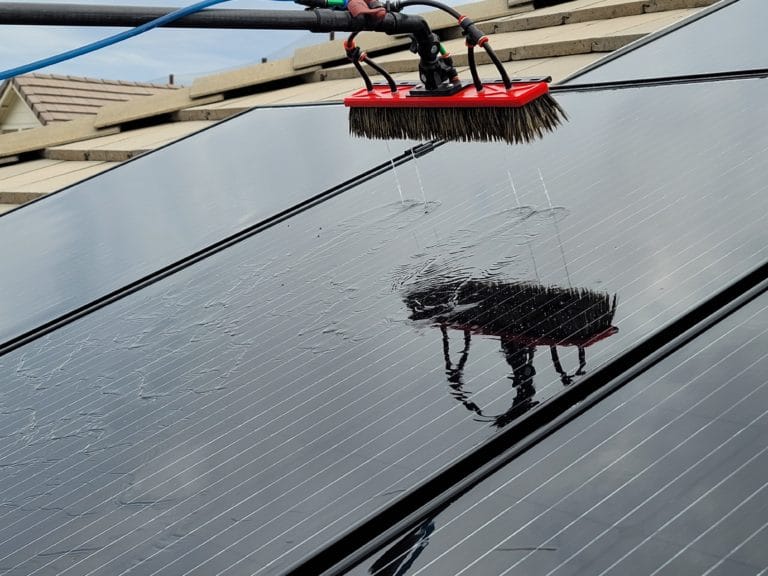 Land Park, CA Professional Solar Panel Cleaning
Land Park, CA is a neighborhood that is located in the capital city of California, Sacramento. Land Park is very relaxed and is a great place to live if you are wanting to raise a family. It is safe and known for having several wonderful places to go for a picnic or for a run. There are many homes that are primarily single-family homes, and there are also several great restaurants, coffee shops, and ice cream parlors.
If you are living in Land Park, California, you enjoy the relatively temperate weather year-round. Warm temperatures and clear skies create the perfect formula for solar panels. If you live in Land Park, CA and you have solar panels, make sure that you have a service that will help you take care of your solar panels. We at Sierra Vista Maintenance provide excellent solar panel cleaning services to Land Park residents and to the residents of the surrounding neighborhoods. Reach out to us for more information.
Why Choose Sierra Vista Maintenance?
We at Sierra Vista Maintenance provide our clients with all sorts of different services to help keep their homes in good condition, including solar panel cleaning services. Not only can we keep your solar panels looking great, but we can help protect them. Our other cleaning and maintenance services are also great for ensuring that your house looks clean. We are experts in the cleaning and home maintenance industry and will therefore be able to provide you with the best of the best service.