Summertime is in full swing which means more time spent outside and with family and friends. Preparing your patio with summer patio cleaning will help you feel more comfortable hosting summer parties or just relaxing after a long day.
Patio cleaning is not something that homeowners think of when doing home maintenance, but Sierra Vista Maintenance makes it easy to improve your home. We take the hard back-breaking jobs off your plate so you can focus on what matters most. Patio cleaning is just one of the many services that can help get your home ready for summer.
Reasons For Power Washing Your Patio
Utilizing pressure washing or power washing can be a great tool for homeowners who want to improve their curb appeal. Your patio and deck are just some of the places that can see the benefits of power washing. Below are just a few reasons why you should invest in summer patio cleaning.
Prep For A Sealant Or Stain
After a long winter and spring pollen, your patio may need a sealant touch-up. Pressure washing and proper cleaning can help prepare the wood or other materials for a sealant. If you have a wood patio, pressure washing before applying stain will help the stain adhere better and enhance your curb appeal.
Get Rid Of Stains, Mold, Or Mildew
Your guests will not want to be around mold, grease stains, or caked-on dead bugs. Power washing can help remove all this in just a simple service. No more scrubbing on your hands and knees, just call our professionals at Sierra Vista Maintenance.
Removing bacteria will not only help guests feel safer, but it will also help the environment. Pressure washing cleans and sanitizes, so your patio will be healthier for all.
Keep Weeds At Bay
Summer brings noxious weeds that can take over your lawn and patio. Pressure washing can actually help keep these pesky weeds at bay and give you a cleaner space. Cracks or natural gaps in your patio are common places for weeds to sprout, so take some extra time for patio cleaning and remove those weeds.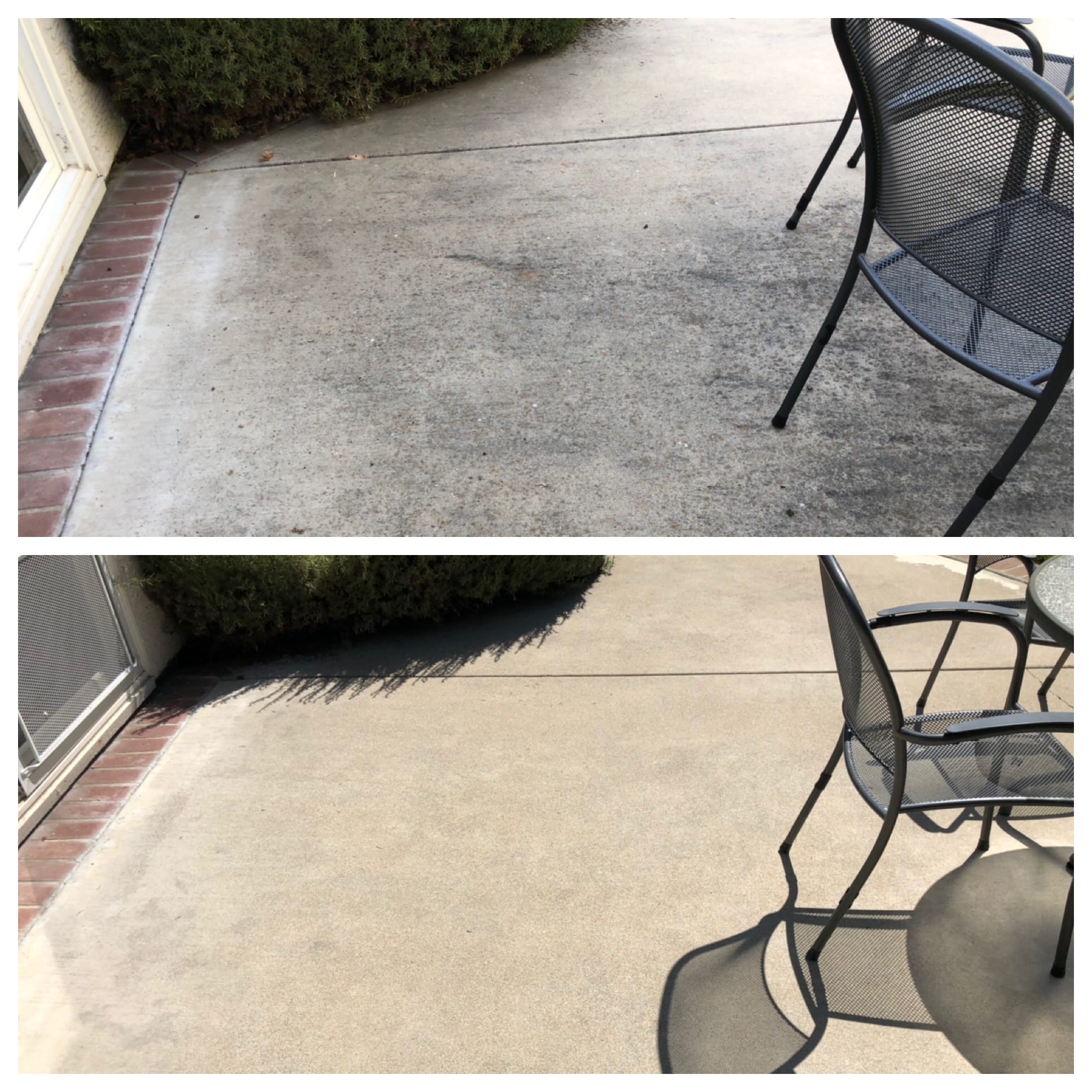 How To Improve Your Summer Patio Set-Up
Other aspects of summer patio cleaning and maintenance can help you have the perfect party space. You will want your guests to feel comfortable and relaxed, so here are some other ways you can take your summer parties to the next level.
Updating your patio doesn't have to be expensive, in fact, just a little clean-up and small elements can make a big difference.
Clean And Sanitize Outdoor Furniture
Having a clean space to sit and lounge is essential when you are hosting a get-together. Take some fabric cleaner and remove stains from cushions, couches, and chairs. Use an odor and cleaning spray to improve your pillows or ottomans. Wipe down coffee tables, coasters, side tables, picnic tables, and more.
Get Rid Of Debris Or Old Junk
Sierra Vista Maintenance now offers junk removal services to help homeowners and businesses have a cleaner and less cluttered environment. Whether it's weeds, old patio furniture, appliances, or trash, Sierra Vista can take care of it. Clearing out junk will help clear your head in preparation for your summer get-togethers. Summer patio cleaning should include some sweeping, trash pickup, and more to ensure your guests feel comfortable.
Implement More Plants
More greenery around your patio space will help it to feel more energetic and open. Potted plants, hanging planters, or even fake trees can help make the space feel like an oasis. Many flowers and shrubs bloom beautifully in the summer, so research what plants are in season if you want to add some color.
Update Light Fixtures
Outdoor lighting fixtures aren't made to last forever, so one way to elevate your patio space is to replace those old fixtures with something more modern. Black is a classic color that will take your patio space up a notch without being too trendy.
Home Cleaning Made Easy With Sierra Vista
As our team continues to grow, the needs of our customers do as well. We continue to add new services, like chimney cleaning, dryer vent cleaning, and junk removal to help make homeowners' life easier. Sierra Vista Maintenance only offers services we know we can provide quality results.

Your home goes through a lot, so it deserves some extra attention every so often. Let us take these tasks off your plate and help your Sacramento home to last much longer. Summer patio cleaning is just one of the many things we can do to help your home stand out. Contact us to set up an appointment, or get an estimate.