"Love begins at home"–Mother Teresa
There's a reason that there's a saying that goes, "Home is where the heart is." When you think about your home, you might have had questions like, "Am I happy here?" and "What can I do to make this place more personal?"
That's because your home can bring you a lot of joy or a lot of stress. In this article, we present 2 tips that can help you with choosing the right patio furniture. As a cleaning service, we're aware of how preventing issues before they arise is just as important as solving them. That's why we're helping you consider factors to look out for before buying a patio set.
What is a patio?
Patios are outdoor spaces used for relaxation or to entertain others. Patios are often in the backyard rather than being at the front of the house (as in the case of a porch). Sometimes patios are attached to the home (similar to a deck). Other times, they're a unique feature in the backyard. For example, patios often include patio furniture.
2 tips that can help you choose the right patio furniture
As a cleaning and maintenance service, here's some recommendation that we, at Sierra Vista Maintenance, have.
1. Choose Patio furniture that works best in the outdoors
When purchasing a patio, a key aspect to consider is if the patio furniture is going to withstand the environment you're in.
Here are things to ask about when purchasing a patio set:
If you live in a climate where it tends to be sunny and warm, ask if your patio furniture will rust. Rusting often happens due to sun-exposure. Rust stains are also difficult to remove. The best type of rust free patio furniture are those made with high-density polyethylene (HDPE). HDPE is durable and lasts a lot longer than other materials.
If you live in a rainy environment, ask if your furniture is water-resistant. Before we go over the types of material that are water-resistant, keep in mind that furniture will need to be taken care of so it's best to cover the patio set if you're expecting rain. That being said, the best types of water-friendly materials to look for are teak furniture and polypropylene furniture, and resin wicker furniture. There are other types of furniture that would work as well, but we're focusing on these three. Here's some information about each.

Resin wicker furniture: This type of furniture is made of synthetic materials. It tends to be long-lasting and often include rust-resistant aluminum frames.
Teak furniture: This type of furniture tends to be beautiful and long-lasting as well. Teak is a type of wood that's found in tropical climates like those of Southeast Asia. Teak is expensive but has many benefits like being water-resistant and being durable.
Polypropylene furniture: Polypropylene is a type of material made from synthetic thermoplastic polymers. Furniture made with this type of material tends to be durable, rust and stain resistant.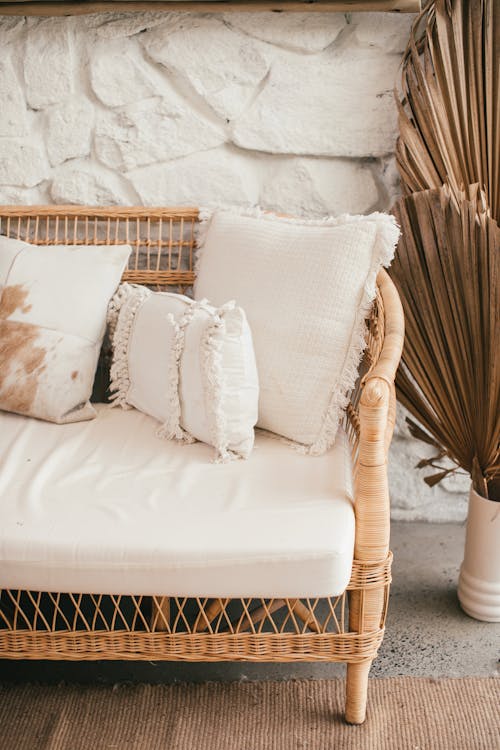 2. Choose patio furniture that suits your needs
It's easy to start to feel limited in your options once you factor in how the environment can take a toll on your patio furniture. The reality is that you have a lot of options. Here are some things to consider as you choose your patio furniture so that it can suit your needs:
How do you plan on using your furniture? For example, many people want to host and entertain large groups of people outside. Others just want to be able to enjoy the view outside as they sip their morning coffee.
What brings you joy when you think of your patio? As Marie Kondo says in her book, The Life-Changing Magic of Tidying Up, keep everything that brings you joy and discard things that don't bring you joy. You might think about the color scheme that would make you happy. You might also think of ways to get more from your backyard.
What accessories would you like to add to your patio? For instance, do you want a firepit? Do you want pillows, additional seating, or even a small storage chest/deck box?
Overall, factoring the environment and your needs will help you choose the best patio furniture for your home.
Let Sierra Vista Maintenance Help You With Your Patio Cleaning in California
Now that you have a basic understanding of patio furniture, let Sierra Vista Maintenance help you with your patio. We offer an amazing patio cleaning service that focuses on removing dirt, moss, mold, and other debris.
We also offer cleaning services that target concrete and brick surfaces. Concrete and brick surfaces are different and will require targeted cleaning expertise.
So, while your patio furniture might be beautiful, make sure that your patio area is also just as appealing and clean!
Reach out to us for more information on cleaning your patio. We can help you optimize on your patio area so that it's a space where you want to be.