Every home and structure uses a lot of concrete as part of its building process. Your home may have even more concrete if you have a patio or a large driveway. Unfortunately, your patios and driveways are exposed to all sorts of elements that can cause them to chip, break down, crack and look dirty or unprofessional. Luckily, there are several concrete cleaning tips that you can do to make your driveways, sidewalks and patios more presentable.
Overview of Concrete
Concrete is a word that most people use to describe any type of hard surface that they walk on, however there are many different materials that are used to make sidewalks and driveways. Cement and asphalt are often used in roads and easements. Concrete differs from cement in that it is a mix of cement, sand and gravel. Asphalt is similar to concrete, except that it is petroleum based instead of cement based. 
A valuable thing to understand about your concrete while caring for it is whether it is sealed or unsealed. Honestly, unsealed concrete typically works just as well as sealed concrete. The difference is that sealed concrete will be more difficult to damage and will look smoother and more colorful. Outdoor concrete is often sealed because it needs more protection from precipitation and dirt.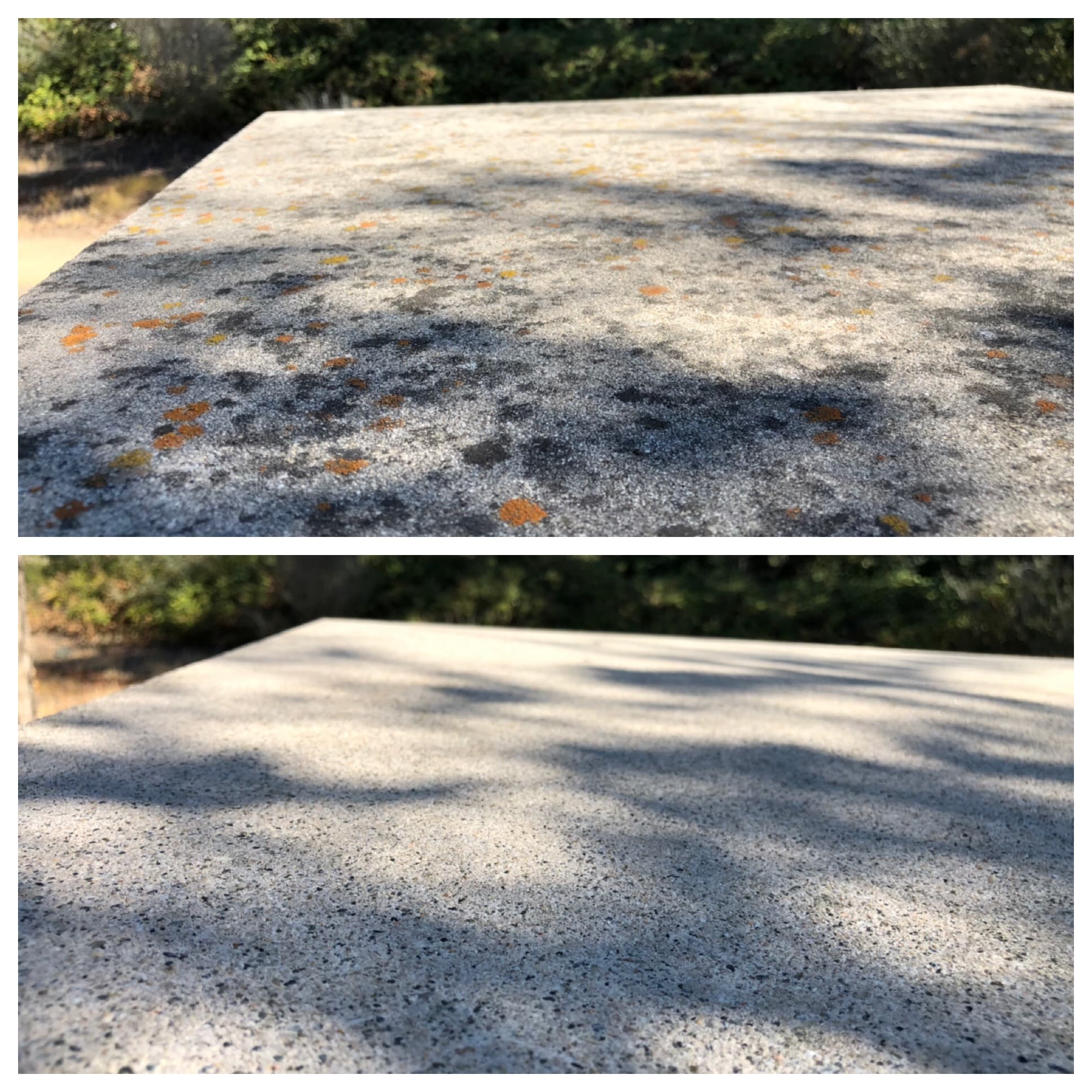 How To Clean Your Concrete
For unsealed concrete, there are several things you can do to keep it clean. If there is a stain, put some detergent on the concrete and put boiling water on it and scrub. Otherwise, you can just sweep and mop normally. For sealed concrete, you can sweep it and mop normally with clean water and soap. However, it may be difficult to clean outdoor concrete with a mop. Nothing is more convenient or efficient for cleaning large spaces of concrete or outdoor concrete than professional patio cleaning services.
Advantages Of Professional Concrete Cleaning
There are many advantages to using professional concrete cleaners to clean your patio, sidewalk or driveway. Using specially formulated non-toxic solutions and scrubbing equipment, patio cleaners can remove mold, moss, dirt, and other substances from your concrete. There are several reasons why professional concrete cleaning is a great choice for getting your concrete clean.
Decreases Time Needed For Regular Maintenance
The first reason why it is a good idea to get your concrete cleaned by professionals is that you will not need to clean your concrete nearly as often. Because the experts clean very thoroughly and with cleaning materials that are specialized for patios and driveways, cleanings can be less often.
Protects The Concrete
The concrete is better protected from cracks and chips when cleaned by a professional. They can also put protective sealants on your concrete to protect it further. Also power washing can help brighten a dull and dirty looking driveway. Lastly, experienced concrete cleaning individuals can better help boost your home or business's curb appeal.
Convenient and Efficient
Probably the biggest reason why you should contact a professional is because of the timeliness of their services. What would most likely take you a couple days to do if you used your household options to clean your driveway and patio takes a power washer a few hours. Pressure washing makes your life much easier and efficiently gets your concrete clean.
Contact Us To Get Professional Power Washing Assistance
Here at Sierra Vista Maintenance, we have the very best service available for all your outdoor cleaning needs. Get a quote or contact us today for information regarding concrete cleaning and power washing.