Sierra Vista Maintenance Roof Cleaning Services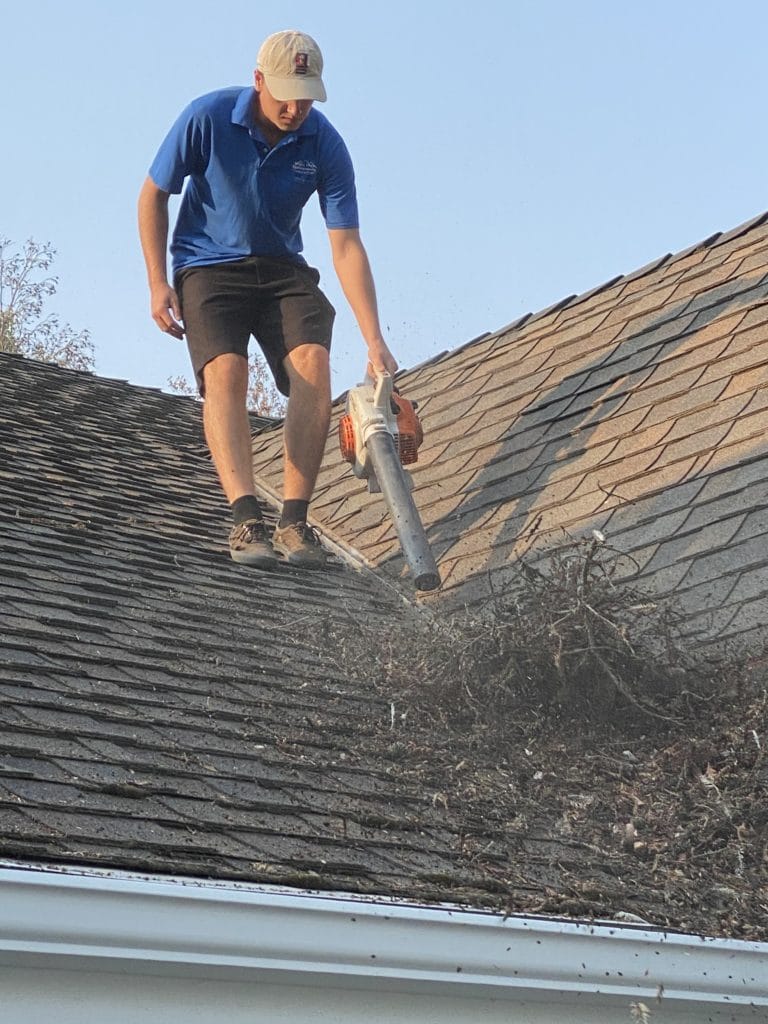 Keeping your roof clean is valuable to expand the lifespan of your roof. Cleaning the roof helps remove harmful elements such as roof moss and mildew, compromising your roof's integrity and structure. Moss can cause the edges of the shingles to curl up and be more prone to blowing off in windy weather. It can also reduce the reflectiveness of the roof and interfere with performance of the shingles. Roof cleaning can be a near impossible job for homeowners to do on their own. We provide several roof cleaning services in the Greater Sacramento area, including:
Residential roof
Commercial roof
Roof moss removal and control
Eave cleaning
Tile roof
Asphalt shingle roof
Roof Cleaning is a Necessity
Roof cleaning is arguably one of the most important aspects of roof maintenance and can help it last longer than it would if no cleaning was ever done on it. Roofs are the perfect environment for buildup for many different things that can eventually break it down and prevent the right amount of sunlight from warming up your home. Cleaning your roof can prevent damage and expensive repairs and replacements. It can also help the overall curb appeal of your home, and will sell easier if there are no unsightly algae or dirt that can be seen on the roof.
Gutter cleaning is just as important as roof cleaning and if neglected, can lead to a whole nightmare of problems such as a leaking roof and water damage to the interior and exterior of your home. This damage can be very costly to repair, and many of your belongings will be at risk of being damaged as well which may also be costly to repair or replace. Gutters are also a common place for insects and other pests to collect, which can lead to a major bug infestation in and around your home if they are not cleaned out. The risk for clogged gutters increases the closer your home is to trees and the time of year it is; fall is a common time for leaves to collect in the gutters and start causing problems.
The overall cost of cleaning a roof will depend on several factors such as the size of your home, it's current condition, what it is made out of, and what is being cleaned from it. Sierra Vista Maintenance offers roof cleaning services at affordable rates and values the safety and well-being of each of our clients and their homes.
Our Cleaning Process
During a typical roof cleaning our professionals will work to remove all debris, dirt, and algae from the surface as well as check the gutters and downspouts for clogging or damage and also repair any loose parts. Following a roof cleaning by Sierra Vista Maintenance ensures your gutter system and roof are functioning properly while also looking their best and improving the curb appeal of your home.
We provide multiple roof cleaning options based on your home's needs. Our experts can remove loose debris from the roof, keeping your roof clean and allowing water to flow off the roof and drain correctly. We can also provide inspections of your roof following a cleaning to ensure there are no repairs needed. We can use pressure washing for roofs that have moss buildup. Asphalt shingle roofs can be cleaned with our soft washing process.
Residential Roof Cleaning
Our residential roof cleaning services utilize environmentally-friendly cleaner with a soft washing process to remove mold, mildew, and bacteria. Soft wash roof cleaning produces results and will help your home stand out in the neighborhood! Our professionally-trained roof cleaners take safety seriously and utilize the correct safety equipment to protect themselves and your roof. We are an experienced roof cleaning company and know the importance of proper roof cleaning to prevent roof damage.
Contact Sierra Vista Maintenance for roof cleaning professionals near the Sacramento area today!